'Sup, Lords of Pain? Well here we are on the verge of a WWE PPV that on paper looks really good. Money in the Bank has a pretty good history too so if you can get past all the booking and writing issues plaguing TV, it could be a fun show. Here's hoping anyway. But before we get there, it's time once again for myself and Randall to have a look back at the last couple of weeks in the wrestling world. So let's get on with it.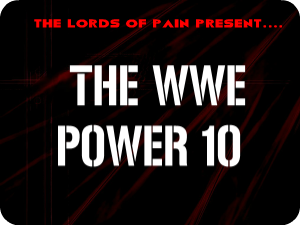 Fortnight Ending 17th May 2019

Randy: We'll start off with one of the subjects we had selected at the start of the week but has now been made obsolete(?) since the episode of NXT last night. I'm talking, of course, about the 10. Tensions Within The Undisputed Era. These guys are my favourite thing going in NXT, with Cole the mouthpiece/main guy, ReDragon as the tag team and Strong filling in tag AND singles duty. Then someone thought it was a good idea to cause tensions between Cole and Strong the last few weeks and it looked like a split was on the cards but thankfully last night a backstage segment aired showing Strong claiming he had "taken care" of Matt Riddle by handing over a bloodied flip flop to the rest and stating they are better on the same page. Phew, crisis averted…..for now?
Maz: Yeah I was seriously worried for a second last week. But let's face it. Adam Cole's a dick. He looks like a dick. He acts like a dick. Roddy will leave one day because of Cole, but it's too soon right now. I think they actually need to achieve their goal of grabbing all the NXT titles. That would be a great sight and photo op before any splits or main roster call ups occur.
Randy: Now that I have you warmed up, how about we get into a topic that affects you (and other UK viewers) more than me? Strange that you're the one ranting when it used to me doing it, just not on a public website. I'm referencing 9. BT Sports acquiring the rights from Sky to air WWE. Thank funk I don't pay for television but Maz, the floor is yours.
Maz: I mean we are still a long way from knowing anything but Sky's contract is up and WWE's business model has changed a great deal. Our delay in getting the network in the first place was allegedly down to the contract with Sky so they have signed one in the network era however they probably now know the impact (no TNA). My biggest issue in it is that I gave up BT Sport a year ago when Sky got NBA coverage and I don't really intend to go back. That said, not watching WWE TV could well be a blessing in disguise.
Randy: Speaking of television, specifically the UK, how about 9. AEW and their deal with ITV? I sure as hell will be paying £14.95 as I want to see this company succeed and the fact it's readily available here is a huge statement right off the bat (condolences to Muricans having to fork out $50 for it). If you like wrestlers, support them, whether it's buying their merch or going to a show that involves them. I enjoyed Cody in the Fed, Omega is a wrestling machine, PAC is a bastard and Pentagon/Fenix are uncanny. I'm obviously not going to know everyone but the unknown is what makes it exciting. Will you be investing, Maz?
Maz: Nah, £15 quid for an unknown quantity when I pay 10 for a month of swag from the WWE just isn't going to happen. Yet. WWE has turned the PPV model on its head. The market price is a lot in 2019. That said, I would gladly spend it if it was for something I am excited about. While I absolutely believe AEW is great for wrestling, there is nothing about Double or Nothing that is making me want to spend my cash. No matches on paper that jump out at me. If the weekly TV comes to ITV as well however that could very well change by their second event. Give me an easily accessible TV show that is good quality and building towards an exciting event, and you I will gladly hand over my (old) bucks.
Randy: Feel like a talk show host grilling you here, mostly due to you not having written anything yet, but I like to be dominant. You know what dominates people more though? Money. Within WWE, it's S**** A****** money. Dammit, that place is still censored here. Of course, that brings us to the recent announcement of 8. Goldberg vs The Undertaker. I'm gonna throw it out there, I've never been the biggest Goldberg fan. I respect what the man has done and his match against DDP at Halloween Havoc '98 is probably his best match ever but that was 21 years ago. Undertaker has always been a favourite regardless of incarnation (fond of Big Evil though) and his last great match was only 6 years ago thankfully (Punk at Mania 29) but he has declined at such an alarming rate I'd rather he had retired after the Streak ended. This is a match made in heaven for someone like Mazza but for me, I don't care. Respect on making that money though, I'd whore myself out too for that kinda coin……
Maz: Yeah my thoughts on it are exactly that. I don't want to see it. To be honest, I doubt I would have cared for it that much 20 years ago. But it's not for us. One positive of this whole S**** A***** deal is that it is an outlet for WWE's old timer fetish. WrestleMania felt a lot better this year without quite so many geriatrics. Maybe long term that can be it. Bring back the Attitude Era in the Middle East and so the Mania payday for these vets isn't quite so appealing so they stay gone in April. Back to the match itself for a moment, I will still probably watch it to see just how bad it is.
Randy: I suppose with all that blood money the company is making, they can afford to 7. Hold Luke Harper Hostage. I once touted him as the next best big man since Kane yet here we are 6 years into his tenure and he's being paid to sit at home because the Fed are petty bastards. This is a company that can barely make their top stars look good, so what's one less guy on the roster if they don't think much of him to use him? It's infuriating.
Maz: I really, really don't get this. If it was like Ambrose, sure. But you clearly see no star power in the guy so why are you worried? Why not let him go out there and do his thing. I mean if he can't even do a Southern accent, and that is the only thing that would make him good, why not set him free. I will often play the defence angle for the WWE but I just can't see one here. It's ridiculous. And oddly enough, give me a Harper match at Double or Nothing and I'd have been more likely to spend some money on it. Anyway, I hope the big guy enjoys his rest getting paid to sit at home. Shoot me a message Luke and we can play some FIFA. So, do you have a 6. Match of the Fortnight for us Randy?
Randy: For me? Has to be Tony Nese vs Ligero from 205 Taped (at least for this week). The cruiserweights consistently put on excellent main event matches every week yet when it comes to PPVs, they're treated like a leper. Also another feather in the cap for Nese by being on a roll but I'd rather someone else was the Champion *cough* Gulak *cough* since he's a bit bland. Nice showing from Ligero too on a bigger stage and reinforces my longing for a secondary title in NXT UK, as much as I detest there being too many titles in the company as a whole as it is. Any matches tickle your fancy?
Maz: I've not actually got around to this week's 205 Live so I can't really comment on that one. I really enjoyed the SmackDown Live fatal four way though. I mean it is typical lazy main roster booking but the blue brand has seemed to really excel in those midcard multimen matches. The more shine for Andrade the better if you ask me. Which brings us onto 5. WWE Officials High on Andrade. I am very glad about this but the rumours of an English tutor are worrying. Let him excel at what he great at. I mean your biggest attraction for the last 7 years hardly ever says a word.
Randy: Always room for more Andrade in my life. The man is talented and English shouldn't be his main priority considering he already has a (damn fine looking) mouthpiece by his side in Vega. It has worked for Lesnar (minus the looks and wrestling ability of Zelina) and in the past as well with Doom/Theo Long, Kane/Bearer and Khali/Singh. Okay, maybe not the last two but you get the idea. Managers are there to hide the weakness of a monster/wrestler that can't speak very well, so keep Vega and Andrade aligned. Since we're on the subject of Andrade, we might as well talk about his other half and the video package that was aired this week on television.
Maz: You know there is only a certain amount of times you can watch this damn pairing, but the 4. Charlotte vs Becky Video Package on SmackDown this week did a really good job of getting me hyped for their 2,053,254th match up. That is one place where the WWE never lets you down. That level of production can often make the dampest of squibs look fantastic. The interviews really brought out urgency and history that the two ladies share. I just hope they can deliver on the night.
Randy: As much as we hate on Kevin Dunn and his ass kissing of Vince McMahon, he can certainly make diamonds out of dog shite and stick it in a pretty bow. The long history between the ladies was highlighted well by the package but it's time for them to move on from one another. Charlotte has to defeat Becky (ugh) and stay on Smackdown while Lynch goes to reign over RAW. Not that any of the 3. Low Ratings will be fixed any time soon, regardless of where The Man goes. Not that it's her fault, it's more Vince McMahon and any other moron that runs the place. The talent can only do so much without the company micromanaging them to death with every little detail imaginable. WWE's ratings have been (or nearly) low since they began and it's a testament to how terrible the product as been. As much as we all love "work rate" and athleticism, the company lacks colourful characters like Ultimate Warrior, Hulk Hogan or Randy Savage. Of course, better writing and consistency would be key too but the day that happens is when pigs fly or Vince dies…..
Maz: I read an interesting rumour the other day saying that Vince actually listens to too many people and that is the problem. Too many writers all having input and not a clue also makes sense. That would explain why the much more streamlined NXTs on both sides of the pond don't have so many issues like that. Maybe we're being hard on Vince, maybe the monster is just too big. Or maybe not. Fact is the buck stops with him ultimately and he needs to grab control of this incoherent beast or hand the reins over to who can. Maybe they can sort out this whole 2. Lars Sullivan Saga too while they are at it. People can absolutely change, but people also have to take responsibility for who they once were. While it certainly seems to have taken a while, Sullivan has made the right noises with an apology and WWE have taken action with a big fine. Is it sincere? Well Titus seems to be ready to accept it but I guess it will take a lot more for plenty of others out there.
Randy: I like Lars. His previous behaviour online, not so much. Not that I'm squeaky clean myself but I'm not famous (maybe infamous but that's for another day). I don't believe for a second that he was actually fined that amount but it would be the more honest news to come from the WWE these days. You think they'd dig deeper into who they take on board but then again, they're not a sad sack of shit that scours the internet in a basement looking for something to start World War 3. The internet is a gift and a curse so you have to be careful in this stupid world nowadays to not trigger anyone. Easier said than done as I predict I'll be banned from Twitter AGAIN by the end of the summer. Speaking of predictions………..
Maz: We close out with 1. Money in the Bank Predictions. I've not really given it much thought but I will say the male world champs will retain, as will Becky 2 Belts… Twice. I like the idea of Andrade with the briefcase and although his victory on the go home tends to point elsewhere, I will stick with that. As for the ladies, I'm going with Dana. Only kidding. Give me Bayley I think. I will have the tag, US and cruiser champs to all retain. Reigns to dispose of Elias rather easily and Miz to finally avenge his loss to a part time non wrestler who bitched out his old man.
Randy: Since I couldn't get work off, I'll just be reading the results of MitB during my breaks. Stick me down for (checks Wikipedia) Charlotte winning/Evans losing, Rollins retaining, Owens to win, McIntyre and Bayley for MitB (she'll cash in on Charlotte straight after her win) along with Miz/Reigns/Joe/Nese/Bryan and Rowan all to win.
Maz: And that wraps things up for this week. Enjoy Money in the Bank if you are watching. Any comments on that or this week's content, you can hit us up on Twitter or in the comments section below.
You can also check out the latest episode of The Right Side of the Pond, where Maverick and Plan do their own preview of Money in the Bank.
Until next time, peace!