'Sup, Lords of Pain? I am in nice and early with the column this week, mainly because I want to have this up before Super Showdown. I've set Saturday as the start of the P10 week so the big event in Australia will be part of next week's list. This week however we have had a couple of go-home shows so you'd think the main roster would deliver. Unfortunately that didn't really happen. With very few standout performances on Raw and SmackDown, it was once again an opportunity for the network shows to make a splash. So let's jump straight in and see just who managed it in the latest edition of….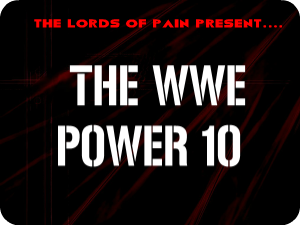 Week Ending 5th October 2018

10. The Miz (SmackDown Live)
In a week where there wasn't much to write home about on the main roster, The Miz makes the list based on a guess announcer spot. To call this feud with Daniel Bryan a disappointment would be an understatement. It was brewing as the hottest thing in the wrestling world once Bryan was cleared but WWE decided to drag it out. By the time we got to SummerSlam there was still fuel, however adding the WAGs in the aftermath just killed it. As we are here on the eve of a huge number one contender's match, I am struggling to really care. The best way to get me back on board it to have both men do what they do best. WWE succeeded in doing that this week. We had Daniel go one-on-one with Shelton Benjamin while Miz ran his mouth. It was a good little TV match. As a big fan of both, it's something I'd been looking forward to following GOAT face's return to the squared circle and it was definitely fun while it lasted. It's Miz who gets the #10 spot though as he talked us into caring about the match at SSD. The post-match beatdown probably helped too. I have no doubt they will bring it down under and deliver a top match, but I will be very happy to see them move on from each other, at least for now.
9. Johnny Gargano (NXT)
While we certainly didn't have a classic week of WWE programming, tucked away in the midcard of NXT was a fun battle between Johnny Gargano and Tony Nese. It's hard to work out what is going on with Johnny Wrestling right now. It seemed like only yesterday that he was the hottest babyface in the company. The long and bitter feud with Ciampa however has left Gargano is some strange wrestling limbo. He lost the war, lost his head and lost some of the huge unconditional support he had. That can certainly be a good thing for a wrestling character. Adversity leads to evolution which can keep a popular superstar fresh. It's hard to say if it's working for Johnny right now, however it is early days. He needs to start again from scratch and the victory over Nese provided a much needed base. We are definitely seeing a different Gargano here however. He still seems very much in his own head. He feels directionless right now. My interest is piqued because of the mystery but the next steps are vital. He needs to continue to evolve and needs to do it quite quickly or that huge momentum as the hero of NXT could disappear into thin air.
8. Tony Nese (NXT)
Whereas Gargano made the list based on the intrigue in his character right now, the Premier Athlete's spot was all about his in-ring performance. Nese looks like an absolutely stud. I counted at least 8 reasons why he looks like the real deal and between the ropes he has a perfect blend of power and speed. Yet somehow, he always seems to end up as the sidekick. Drew Gulak surprisingly unlocking oodles of charisma saw Tony take a backseat, and he seems to have been performing the same role to Buddy Murphy's critically acclaimed match resumé. A trip back to NXT however gave him the opportunity to remind everyone that he is a talented dude in his own right. He pulled out all the stops against Johnny and was unlucky to be on the losing end of the match. It was certainly nice to see him get a feature however. Quite where that leads for Nese, I am not sure but I will be keeping a lookout for him on 205 Live to see if he can start to build some momentum.
7. Dean Ambrose (Raw)
The Lunatic Fringe comes off his number one spot last week as the only Raw representative on this week's list. Last week, as Raw went off the air, he appeared to put any doubts about his allegiance to the Shield behind him. This week however it continued. Constable Corbin put him in an uncomfortable position of choosing between a shot at one of his brothers' titles or a match with Braun Strowman. In typical Ambrose fashion he tried to find a secret option but was forced into a battle with the Monster Among Men anyway. He gave it a good effort but Strowman was too strong for him and he was saved by his stablemates. He took the loss via DQ which didn't seem to impress him, and he was quick to point out that he could have ended the night as a champion. It was a good match and he continues to play his role well in a week where the rest of the Raw roster failed to make much of an impact. I have no doubt the 6 man tag down under will brings others back into the fold next week but for now, Dean is the lone lowly rep for the A-show.
6. Randy Orton (SmackDown Live)
Let's talk about The Viper. When all is said and done and he hangs up his boots, his legacy (puns always intended) will be as an all time great. There have been times during his career where I have looked forward to everything he does. There have been other times where I just wished he would go away. My theory has always been that as a heel, he tends to have a strong character but dull ring work. Conversely, as a face he could wrestle fantastic matches but just wasn't very interesting outside the ring. Of course there were exceptions and we've had a few great feuds over the years. Recently however I've been ready to give up on Orton. I've always been of the opinion that he could have potential barnburners with a lot of the new generation of talent however when the opportunity arises, I've often been left disappointed. All that being said, I find myself all in on this sadistic Orton we are currently being treated to. I very much enjoyed his dismantling of Jeff Hardy's earhole and the cell match at the last PPV. He is clearly prepping for another big name target but in the meantime, poor Tye Dillinger gets to play the game. He was a brave lad for requesting a match with the Viper however Randy picked up where he left off with Jeff, this time focussing on the finger. Crunching Tye's digit in the turnbuckle bracket was the latest in a long line of sick offence. Those voices in his head are certainly in a creative mood right now.
5. Rhea Ripley (MYCII)
Toni Storm may have the reputation as top Aussie but when you look at this year's tournament so far, Rhea Ripley is giving her a real run for her money. She looked to have a good amount of raw potential last year but she has returned in 2018 bringing a whole load of character with her. She has the size and attitude on her side this time and found the perfect foil in plucky newcomer Kacy Catanzaro who was very impressive in round one. We got another good cameo of the little spitfire's insane athleticism and I do look forward to seeing more of her down in NXT soon. Ripley's extra seasoning jumped out however and she looked like an absolute star. There have been a lot of David and Goliath battles during both MYCs so far but nobody has taken to the role of the giant as well as the Australian has this time around. It ended in a relatively comfortable victory and we shall see just how she carries herself into the quarter finals.
4. Becky Lynch (SmackDown Live)
This list wouldn't feel right without an appearance from Becky at this point. This week she got to close the show once more which is more evidence of just how high her stock has risen in these past few weeks. It was another talking segment for the champ this week in front of a loving audience. Once against she had the tone nailed perfectly as she discussed the disrespect she is experiencing despite holding the title. The big reveal of the segment was a custom Super Showdown poster complete with image from the interrupted photoshoot from last week. Cue an angry Charlotte for the beatdown. I love the fact that Flair is now fuming. It fills me with great hope for their bout in Australia. Lynch and this feud is so hot right now, on this week's TRSOTP Plan and I discuss our belief that they probably deserve to close the show (although we are well aware it's highly unlikely to happen).
3. TJP (205 Live)
Let's cast our minds back two years. TJ Perkins found himself part of WWE's Cruiserweight Classic tournament. He wasn't the biggest name in the field by any stretch of the imagination but he went on an impressive run of matches and developed a groundswell of support. He was an extremely likeable guy whilst scratching and clawing his way to the top but once he became the champion and head of the new division, everyone quickly realised he was a bit of a douche. The company for their part realised this pretty quickly too and leaned right into it. From that point on, general consensus was that TJP was getting "X-Pac heat". Personally I don't buy into that term. While not all heat is the same, I do think if you are getting booed for being unlikeable in reality, you are still doing your job. Just how much of it is his everyday self, I am not sure but he has embraced playing the douchebag heel and I do enjoy seeing on 205 Live. It's kicked up a couple of gears in recent weeks with his feud with Lucha House Party. He's being a grade A ass right now, having ripped the masks off both Lince Dorado and now Kalisto. He also wrestled a pretty damn fine 205 Live main event with the former Cruiserweight and US champion. He's played the background for quite a long time now but is his time coming around again? There is a lot of talent jockeying for position on the purple brand and Perkins is certainly holding his own.
2. Mercedes Martinez & 1. Meiko Satomura (MYCII)
When it comes to this week in the WWE, there was a very clear standout for the best match. A pair of grizzled veterans closed out the first half of round two of the MYC and it really was a thing of beauty. Martinez and Satomura made their way to the very top of women's wrestling in a time where the WWE didn't take it very seriously at all. They say "it's better late than never" and that is certainly the case here as the pair showed just what they have to offer in a WWE ring. It was a seriously hard hitting encounter with strikes, submission attempts and plenty of near falls. My girl Meiko took the hard fought victory and I really hope she goes all the way in this thing. It maybe only the third time I've seen her wrestle but I am hooked and want more. I would guess this is just a showcase for a legend in the game but I still hold out hope she will get signed up at least for a short run. As for Mercedez, I think she would be a huge asset to the company if signed full time. She just fits that role as respected veteran perfectly. She could have great bouts with so many of the top talent in addition to making newcomers. A win against Martinez would be a huge boost and automatically raise your profile. Anyway, if you've not watched this match yet, go and do it now. Well, read my outro first but then go.
So there we have it. The second round of the Mae Young Classic dominated the top of the list with 3 participants in the top 5. It was definitely ladies' night too with usual suspect Becky Lynch meaning only one guy made it into the 5 best performers of the week. I expect the dudes to fight back this week. A five hour special is bound have someone step up to claim next week's top spot meanwhile I have high hopes for the North American Championship triple threat on NXT. If you have any comments or thoughts on this week's list, feel free to jump in the comments section below or hit me up on Twitter.
You can also check out the latest episode of The Right Side of the Pond, where Plan and I preview Super Showdown.
Until next week, peace!