'Sup, Lords of Pain? Welcome to week 5 of the LoP WWE Power 10. One thing I notice as I get older is how quickly the time goes. That is especially the case when you are wearing so many hats. Right now I am juggling being an employee, a husband, a father, a columnist and podcaster for this site in addition to a MyTeam and FUT addiction on fresh new versions of 2K and FIFA. With all that, as soon as I squeeze in 8 hours of WWE programming for P10 research it's like I have to start again. But I love wrestling, even if the quality of the product is somewhat questionable, so it is all worth it in the end (most week's anyway). This was another one that I enjoyed with some very good performances across the five shows. Who makes the list this week? Let's not hang around. Time to find out with…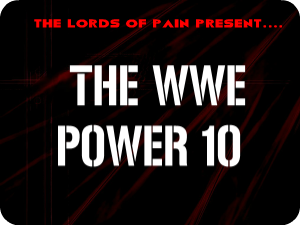 Week Ending 28th September 2018

10. The Authors of Pain (Raw)
As all you regular viewers of WWE programming will no doubt be aware, the company has developed this rather bizarre tendency to call successful acts up from NXT, and then proceed to do absolutely nothing with them on the main roster. While it is frustrating to see hot NXT acts not be as successful up top, sometimes things just don't work as well for a larger audience so it is understandable. Not doing anything at all with them however is downright head scratching. The Authors of Pain definitely fall into that category. In reality they have only been on Raw for about 6 months but at this point it feels like they have spent half a decade showing up once every 3 weeks to squash some jobbers. This week however they got their first real opportunity to do something meaningful when they were chosen by Constable Corbin to be his partners against the Shield. They looked like absolute studs pitted against the company's premier faction in a very competitive main event. And of course, now the acting GM owes them one so it would be very disappointing indeed if they headed straight back to squash matches next week. Their first meaningful match on Raw also coincides with AOP getting a new manager in Drake Maverick. I think that's a good move. In kayfabe you can already argue his appointment is paying dividends. It seemed a strange fit at first but I am really beginning to dig the visual. Drake almost looks like Harvey Wippleman standing with one of the many giants he would manage to try and take down the Undertaker.
9. Otis Dozovic (NXT)
So the "steaks and weights" bloke from Heavy Machinery makes the list this week. He got a bit of love from the LoP columnists for his big main event shot on this week's NXT. Full disclosure, I don't really get it. I mean don't get me wrong, a goofy big guy will always have a spot in a wrestling promotion but the act just isn't something that is going to appeal to me. His match with Psycho Killer was decent and competitive. It was a serviceable main event in a short side-arc for the Ciampion (see what I did there?). I don't really have much more to say on Dozovic right now. For fans of Otis, I'd love to hear what it is about him that does it for you. Don't be shy to hit up the comments below to let me know.
8. The Revival (Raw)
Let's go back to 2016. Scott Dawson and Dash Wilder were having Match of the Year Contenders pretty much every time they laced up their boots. Hell, there was an argument to be made that they were the best wrestlers in the company that year. Two years later and a combination of horrible main roster booking and untimely injuries have turned the Top Guys into Aimless Bottom of the Card Guys. I've always been of the opinion that their time would come around again because they are too good not to let it happen. I have been getting more and more worried for them as time has gone by however. They seemed to be on the verge of taking the titles from the B-Team before the hot duo of Drew and Dolph jumped to the front of the line. I said at the time it could be a good thing for Dash and Dawson. The titles have undoubtedly been elevated and The Revival were given the time and stage on Raw this week as they went to battle with Ziggler and McIntyre. And they didn't disappoint. They may have been lumbered with the jobber entrance and they may have ultimately come up short, but they put on a top notch TV bout and reminded us all of just how good they can be. Where will it go? It's very hard to say at this point. Braun's fellow Dogs of War obviously have bigger fish to fry right now but if they keep themselves in and around the Dogs and The Shield, they could find themselves in a strong position and we could get a lot of entertaining TV out of it.
6. Mustafa Ali & 7. Hideo Itami (205 Live)
I told you last week I was anticipating this 205 Live grudge match and it didn't disappoint. Ali in particular gets a lot of love from the LOP writers and it is easy to see why. He can go flip for flip with the best cruiserweights in the division but unlike some of his counterparts, his matches have a very solid foundation in storytelling. With Mustafa the flash carries the substance with it. He proved that once again this week in a gutsy performance against the man who recently put him on the shelf. Itami more than held up his end of the bargain too. It has been a strange WWE run for the former KENTA. He came into NXT to a lot of hype and fanfare but every time he seemed to get on a bit of a roll, injury would intervene. A star of his reputation being shipped out to a show that was pretty much like a desert island until very recently definitely feels like the company is ready to cut their losses. There is always hope in the WWE however and I find Itami's current character to be very interesting indeed. His heel performance in this match was fantastic in contrast to Ali and the double countout finish means there is more to come. I really hope that the people who make the important decisions in Stamford are paying close attention to 205 Live at the moment and particularly this feud, as I do believe we have a couple of multi-talented stars on our hands with the skills to succeed on whatever show they are placed on.
5. Becky Lynch (SmackDown Live)
Becky makes it five for five with another great week. That means I've talked about her a lot in this series so far. In fact, she is also top of the bill in this week's TRSOTP (which you should totally check out after reading this column). Because of that, I don't have a great deal to say this week. So look at this instead.
The sneer, the swagger, the way she carries herself and expresses herself is just perfect right now. She followed this beatdown of Charlotte with a backstage belittling and in-ring dismantling of Lana, once again with her character on show for everyone to see and enjoy. Keep it up Ms Lynch.
4. Samoa Joe (SmackDown Live)
Another week goes by and it's another Samoa Joe performance that totally puts the WWE Champion in the background. I honestly believe Joe is the best promo in the company right now and he seemingly goes out every week and steals the show without even wrestling. That just isn't AJ's wheelhouse. Don't get me wrong, I don't believe Styles is poor on the mic by any means. His heel work and promos as an edgier face were decent. As a pure babyface however, the champion is largely dependant on his exceptional in-ring talent, but there hasn't been a great deal of that going on in this feud. This week Joe showed up at the Styles residence and cut a typically creepy and uneasy promo and AJ's response of "don't go in my house, dude" didn't really do it justice in my opinion. I very much believe it's time for Joe to take the gold and run with it. I don't particularly believe that will happen but Styles is a little stale right now. A title switch would be very much deserved for the Samoan Submission Machine and take the pressure off AJ for a bit so he can re-find his mojo.
2. Dolph Ziggler & 3. Drew McIntyre (Raw)
If you have read or listened to myself and/or my TRSOTP co-hosts Plan and Maverick for any amount of time, you will know we are all huge proponents of the "one night story". As such, this week's Raw was one I enjoyed thoroughly. The Dogs of War trying to get into the head of a lunatic made for an excellent thread throughout the night. It also gave the tag team champions a chance to show their range, and they didn't disappoint. Both men got individual nominations this week so I've given Dolph and Drew the #2 and #3 spot respectively. Ziggler actually got the #1 spot on my list. I have tended to go as hot and cold on Dolph as the company do over the years. There are times where I see a guy that can be at the very top of the company and others where I wonder why he is still even employed. Right now he is definitely in that "hot" category. I think his mic work this week was as good as I have ever heard from him. He really dug deep to try and turn Ziggler and he was ready to stop at nothing, which is the mark of a fantastic heel in my book. McIntyre got his fair share of love too with some strong promo work of his own. He also got to play the potential centrepiece for a bit as Seth tried to get into his head. They left their fellow Dog of War and Universal Championship contender way behind this week and they topped it off with a fantastic TV bout with the Revival to boot. This pair is going from strength to strength right now and long may that continue.
1. Dean Ambrose (Raw)
Dean Ambrose. What a rollercoaster it has been for the man. He was on top of the world at one point, fed to Brock Lesnar, given the WWE title on the cooldown and then bizarrely and unnecessarily buried by Steve Austin on a podcast appearance. It all seemed to unravel there for him. A backlash against him grew within the IWC despite what I thought was a very good run as champion. Personally I've always found him to be one of the best things going on whatever show he is on. Seth's redemption story last year was fantastic and I've enjoyed every step of his return from injury. Still there is often a perception that he is the least important member of the Shield, and creative really tapped into that this week. The Lunatic Fringe took that role on perfectly and proved that he is every bit as important as his brothers. Subtlety is not something that Dean portrays very often. He's brash and his movements and reactions are often totally over the top. This week however he was often seen looking in deep thought as the Dogs of War tried to get into his head over his position in the Shield. He could have easily hammed it up all night but he played it perfectly before finishing the night in that signature pose with the Hounds of Justice. Someday, and probably someday soon, that heel turn is going to come for Ambrose and I really do believe it will lead to some amazing television. Until that happens however I am just going to sit back and thoroughly enjoy him running roughshod over the Raw roster with his brothers.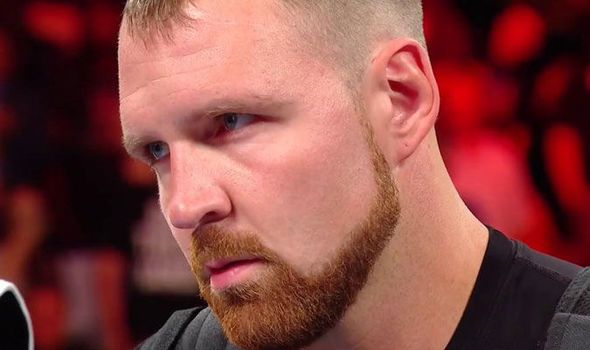 And we've made it through another week guys. Dean Ambrose steps out of his brothers' shadow as the usual suspects lurk just behind him. We saw P10 debuts for the mega talented Mustafa Ali and Hideo Itami while the Revival and AOP finally get a showcase on Raw and make a splash. I'd love to hear your thoughts on the list so feel free to hit me up on Twitter or in the comments section below.
You can also check out the latest episode of The Right Side of the Pond, where Plan and myself take a look at some of the findings of the first five weeks of this column series.
Until next week, peace!