'Sup, Lords of Pain? No, your eyes don't deceive you. We have not died a WrestleMania related death. We have not quit and gone back to using our indy names. We are back and revamping the Power 10. Problem with the old format was that there was only a certain amount you could say about Becky Lynch and Daniel Bryan EVERY DAMN WEEK. Week to week the top 10s were very similar and WWE holding patterns meant a lot of the time they weren't even doing a great deal. So we are tweaking the format. Instead of the top 10 performers of each week, Randall and I shall be tackling 10 talking points coming out of the previous 14 days of WWE programming. It could be a wrestler, match, promo, storyline, rumour, pretty much anything we see fit. So now let's jump in to where it all begins again (no WrestleMania XX)…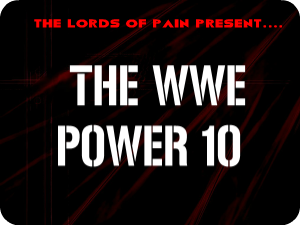 Fortnight Ending 3rd May 2019

Maz: I want to kick off this new format with a rant. We are constantly hearing about Vince not being happy with falling ratings and changing things up backstage. My thought on it is this. You are in the story telling business so to get people hooked, you need to tell stories. The world is splooging over what the Avengers and Game of Thrones are doing. I watch neither of these series however what is clear is that they have a fantastic grasp of setting scenes and having reasons for everything. So here is the first new P10 subject. 10. Why Were the Money in the Bank Participants Just Randomly Announced? It is such lazy writing and booking. The company are so complacent on a concept that people like that they don't believe they have to put any thought into why anyone gets a spot. No qualifiers. No indication of who made the choices and how. Just 16 people randomly find themselves as part of the match. It's not really surprising coming off a draft that begged pretty much the exact same questions. Why should we care about anyone's path to the briefcase right now when there is no reason for them to be fighting for it in the first place?
Randy: It's a testament to how complacent and uncreative the team is at the Fed. You say they're in the story telling business but that was eons ago. The only business they're in, like every other company on this planet, is money making. Screw what the consumers think, they have enough idiots still throwing money at the monopoly company anyway so they can do whatever they want. That leaves fans like us constantly bitching about how poor things are and pining for the "good old days." Suppose that's what The Network is for……shit, think I got side tracked.
Randy: Speaking of the good old days, I remember when wrestlers used to be full of juice and larger than life (hi Billy Graham). You can already tell where this is going, but 9. Kofi Kingston is Unworthy of Being WWE Champion. I've been against Kofimania since it all began but my apathy towards him started years ago when he became "just another face" in the crowd. He looks terrible (only Mysterio has been a less convincing looking champion back in the day) and my pasty 6"2 frame could possibly kick his ass on a good day. Still holding out on Big E having his turn since he looks better (slight homo) and is far more charismatic. What say you, Maz?
Maz: I actually agree. Now don't get me wrong. I loved KofiMania. It was by far the best thing going in WrestleMania season and proof that WWE do actually have the ability still to tell a compelling story, even when they just kind of stumble into it. However the dust has now settled and a WWE champion throwing pancakes just doesn't seem to cut the mustard. It is often the case with these underdog champions, once the odds have been overcome, there isn't much that is interesting to tell. If Bryan wasn't suffering from this mysterious injury, I'd say the title should be going straight back to him at Money in the Bank. I think some people just aren't really made for that defending champion role. Christian is one of my absolute favourites of all time, but I wouldn't swap any strong title run for that summer he had with Randy Orton back in 2011.
While on the subject of Mr RKO, he plays a prominent role in our 8. Tweet of the Week. We are in a time where superstars on social media can be more entertaining than they are on TV. This throwback to the best-forgotten Wyatt-Orton feud was a lot of fun.
You had WWE spend 2 million on photo projected bugs what you expect me to do @trailerparkboys bo f'n bandy over n out #houseofhorrors https://t.co/UfD0FXpNoK

— Randy Orton (@RandyOrton) May 1, 2019
It wasn't done there however as WWE's biggest Twitter lurkers decided to get in on the action too.
@ him, you coward!

— Florida Man (@WWEBigE) May 2, 2019
Randy: Another reason to love Big E. It's a testament to how bad creative is when the wrestlers can let loose on social media. Becky tweets straight fire (I hate myself) on a regular basis and Kevin Owens can come up with some entertaining quips when he's rarely on. Why can't they be given an open forum to spout shit on TV? Ah yes, they're working to bolster the WWE brand, not the wrestlers profile……
Maz: Of course this whole exchange stemmed from one of the more bizarre things to be shown on WWE programming in a while. 7. Firefly Fun House. I honestly don't even know where to start with this. It's fun and quirky for sure, the type of thing that tends to get the internet fans on board. It's also the kind of thing that tends to get old pretty quickly if the company don't move on it. Going off the general state of creative right now, and Wyatt's history of having good things die a painful death, I am not convinced this ends up doing anything for the guy. What do you make of it all?
Randy: I am sports entertained already and I'm not usually one for silly things like this. Unfortunately as you mentioned, this could get old quick and with the track record of creative and Bray's own history, it could (and probably will) go south. The man is talented at what he does and it's a shame how his career has went so far but if this doesn't work out for him, I'd cut my losses and leave for greener pastures. It's all the rave these days, unlike my sex life…..
Speaking of that, I used to have a problem with arriving prematurely. Over the years I got into my groove and now I'm a stallion, so how come (lol) the Fed has regressed in that area? I'm talking of course about 6. AJ Styles vs Seth Rollins Happening Too Quickly. Personally to me, that's a big matchup that hasn't been done yet and I would gladly witness a buildup towards Summerslam for this match. Instead, we get it at the redheaded stepchild of the "big 5" just so the event seems important, because lord knows the MitB contract results sure aren't big news anymore. The silver lining is they didn't put it on a show with a 2 week build but it's another reason why a lot of us think the company is in dire straits, money making withstanding.
Maz: I think the biggest issue that comes from this is that by starting it now, the Rollins win is surely telegraphed. They haven't had Seth slay the Beast just to drop it straight away surely. As you said, SummerSlam would be the perfect time but I do wonder if they are not just trying to throw something big to try and retain people's interest in the aftermath of Mania. It could be one of those feuds that the company drags out for a bit but I do get the feeling this will be a "one and done" with the amount of heels lurking about that Raw roster. Maybe we even see a screwy finish to keep the intrigue over the result for a few months. It is Money in the Bank afterall so somebody will be holding a briefcase on the night too. I do really hope they don't piss away this huge first time dream match however.
But Rollins and AJ isn't the only dream match Raw currently has in the works, although you wouldn't immediately recognise it should you just be happening to flick by Monday nights. 5. The Build Towards The Revival vs The Usos has highlighted how the company views main roster tag wrestling once again, however it does nothing to make me any less enthused over this beast of a bout. Pretty much anything good that has happened in the main roster tag division over the last decade has centered around Jimmy and Jey. The Revival have the greatest year in WWE tag team history in my opinion back in NXT in 2016. These two teams coming together has to result in magic, and no amount of back shaving will stop that. It was a silly segment and not one that you would expect setting up a match that should be a massive deal. And the Revival didn't get their tag belts back again on Raw. But I kind of liked it and should they be given 15 minutes to tear the house down on a PPV, nobody will even remember it. Who knows, if they are given that then maybe, just maybe the Top Guys will sign those rumoured shiney contracts and resist the urge of getting superkicked to oblivion in AEW instead.
Randy: As much as I hate the back shaving segment, solely because it doesn't fit with either teams at the moment (unless Usos somehow morphed back into their painted moron selves) it does shockingly set up a non title tag feud that has me salivating. This is Brainbusters vs Rockers but better and definitely a dream match I never thought I wanted to see. Yes, I hated The Usos up until the penitentiary turn but Revival will always have my heart and they can make anyone look good. Well, except for Ryder and Hawkins because that's still a sore spot for me. Hell, it might be a good thing if they decide to sign for AEW. Speaking of said company…….
Maz: Oh, do you mean 4. Ambrose's Elaborate Work? This whole Dean thing has been a hard read. They had him do some jobs and kept him off Mania and a lot of TV, which is very much in keeping with a guy of his stature leaving. However they also milked it big time, had a network special and publicised it far more than they would normally do. This led to a whole "it's a work" mentality brewing in parts of the IWC. I wasn't on board with that idea to be honest, until now. Dean's barely used Twitter account has gone back to the Jon Moxley name and he has posted a pretty awesome vignette under his new old name. It was beautifully produced. Maybe too beautifully produced. It certainly wasn't done by Renee on her phone. It was the type of production that sets WWE apart from pretty much every competitor who dares to even think about looking at them. So either AEW already have something nailed on where they are looking on a par with the 'E, or Jon Moxley is who screws up the finish to Rollins vs Styles. I will put my tin foil hat on and jump on the team screaming "work" for now.
Randy: I thought the Mad Maz predictions were for TRSOTP only but here we are. I would also like to see videos produced on Renee's phone but that's not for discussion on here. As for the "work" the Fed seems to be feeding us it's a hard pass from me. Years ago on a Smarks Court session (sup Maz), I was the only one that stuck by Rollins being the star of The Shield when they first debuted (no-one else was willing to defend him and 'Plan hadn't jumped on the bandwagon yet) and Ambrose was silly with his over exaggerations and….strangeness? My opinion of course changed over the years and I grew to appreciate him more (unlike Reigns, f*** him) but that ill fated heel turn was met with apathy, because the evil Ambrose I was expecting was the Moxley version from his time before the Fed. This is a chance to get back to his roots and show us his worth is, without the shackles of a stagnant creative pigeon holing him into comedy roles and butt shots (pause). He is sure to thrive wherever he goes and I'll be watching closely with anticipation.
Maz: Anywhere?
Randy: Well, maybe not 3. S**** A*****. Dammit, even The Kingdom (no ROH) is censored here.
Maz: I've discussed the whole Saudi thing before. It seems like it isn't going away anytime soon but my stance is currently the same. I understand the awkwardness of the situation. I get people taking a stand and wanting to step away from the WWE because of it. I do hope that those people care enough to do the same to any company that does business with the kingdom however. Personally, this one isn't my fight. Let WWE get that money should they want. I could probably take or leave the show but that is mainly due to the parade of old geezers they wheel out for them.
Randy: Luckily I haven't watched any of the shows live and maybe a clip or two here and there but it really is the definition of 'going through the motions' with this company. Good on them for securing an income for the next 9 years (there they are being more worried about money again) but that doesn't bode well for the fans and the product they receive.
Maz: I guess that is the magic of the network. For all the times you want to cancel because Goldberg is gonna wrestle Lou Thesz in the middle east for blood money, you also realise that 9.99 is also paying for WWE's weekly apology to its smarkier fans. NXT shows no signs of losing the love it receives but did you happen to catch the performance of a certain golden boy this week?
Randy: That's a bit racist considering he's from Japan.
Maz: No, it's not Kushida's debut I want to talk about, it's the 2. Velveteen Dream's Singing. I mean I am pretty sure we should never throw a Prince comparison his way again. Ever. It wasn't even "not a very good voice" bad, it was just all over the place. Like a kid in the middle of puberty trying to sing Celine Dion as his voice breaks. But also out of tune. And tone. And time. Just horrendous. I'd have him drop the belt just for that to be honest.
Randy: Normally I'd say sacrilege for saying Dream should drop the belt but after that performance, I second that motion. Fans are lucky we don't run the company. Eh? Lets just hope this is a one off and he can stick with the flamboyance. I feel like the face turn has cooled him down a bit as he was much more entertaining as a heel so here's hoping he goes back to his dark side sooner than later. One man that is doing a good job as a heel had an entertaining match on the UK side of things this week. Why won't you take this one, Maz.
Maz: Yep, we have to give it up to Square Head and the Ald(i)emon for taking our Match of the Fortnight honours. 1. WALTER vs Jordan Devlin. What a brutal encounter it was. WALTER's first big WWE outing saw him give us a contender for the match of WrestleMania weekend. And he is quickly proving why he had such a high standing coming into the company. He is fantastic at that stiff European style and Devlin more than held up his end of the bargain.
Randy: I take back any instances of me calling Devlin "Finn Balor lite" because he is way more entertaining than his more well known mentor. With the main event being preoccupied by the Austrian and Dunne's inevitable rematch, Devlin reminded them that he's waiting in the wings, taking the fight to the big man and showing he can be just as good as Dunne if not better (he'll certainly brag about it anyway, cocky bastard). The loss is but a small setback because he'll be back on his feet and no time to hopefully challenge for the title, whoever may be holding it then. Probably WALTER. He's going to be a dominant champion for a while and it's nice to see a man of his size (pause) ruling over the roster with an iron fist. Just get The EU lads in there to join forces with him, spice things up a bit.
Maz: Ooh now that is a good idea. Although why do I get the feeling you are just trying to push some kind of Nazi stable? Not sure that can run in 2019!
Randy: I JUST LIKE WORLD WAR II HISTORY, THAT'S ALL DAMMIT! Ahem……
Maz: I think we better go now before you say too much more. Thanks for reading everyone. I hope you liked the new format. Any comments on that or this week's content, you can hit us up on Twitter or in the comments section below.
You can also check out the latest episode of The Right Side of the Pond, where Maverick and myself look at the history of the Money in the Bank PPV and compare it to King of the Ring and a potential reboot of the loved ex-PPV.
Until next time, peace!