'Sup, Lords of Pain? I am back from my sabbatical and it has been a strange old week. We had a PPV that pretty much delivered across the board. We followed that up with the return to TV of the McMahons. This is normally a sign of 2 things. 1. That WWE are desperate. 2. That the fans won't like it. They are certainly desperate right now with ratings in the tank and the fans definitely were not too complimentary about their return. However, TV was positive. The change seemed real with a whole host of underutilised talent getting a bit of a spotlight. Will it last? Who knows but they certainly seem to have their ear to the ground in desperate times. It gives us a headache this week however. We have strong PPV performers battling it out with guys trying to grab a rare opportunity with both hands. Let's see where the chips fall.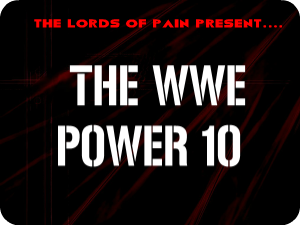 Week Ending 21st December 2018

10. AJ Styles (SmackDown Live)
Randy: First of all, welcome to my column Mazza. Been trying to get a collaboration with you for a while now as I'm a big fan.
Maz: Shut it. Get on with it. I don't have time for this.
Randy: The Balls That Ache in Place has had a nutty year. Squaring off with Nakamura, Joe and Bryan surely took a toll on the Phenomenal One, so you can forgive him if he wants less dates with his contract renewal at the end of January. AJ has been a steady hand since debuting nearly 3 years ago (wow) and has been at the top of the chain but I think it's time for him to take a step back and go easy. He has done everything there is to do. Why bust a nut further?
Maz: Styles is the biggest loser from this crazy week. He had a genuine match of the year contender on Sunday, wrestled in a really good main event on SmackDown and yet only got one vote. If we were giving top tens, he'd have probably made all of the committee's lists however he was seen as the one people could drop to make way for a strong TV performer. I've said this in this column before, but time for a reset for AJ. His matches will always be top notch but the interesting character has just gone right now. Here's hoping for a 2019 where he delivers more than just bell to bell.
9. Seth Rollins & 8. Dean Ambrose (Raw)
Maz: Right, we have some very big Dean and Seth fans on the voting committee. I mean I would classify myself as a big fan but nowhere near the level of guys like my TRSOTP co-hosts. Personally I think they've shit the bed in this current feud and in their match on Sunday. I still don't really understand Dean's motivations. I certainly don't buy them. The promos have not really hit home. It all came to a head on Sunday. The match was dull. Comfortably the worst of their bouts together. I liken it to the first half of their ladder match. The crap going on at the announce desk certainly didn't help things. You either no-sell Renee's relationship with Ambrose or you fully commit. Not bring it up constantly and have her flip-flop. But that doesn't excuse the fact that they didn't grip the crowd. That is on them and Seth owned that on Raw. They are two of the most talented guys of this generation and I am sure they will turn it around, but in my opinion, they are imposters on the list this week.
Randy: I legit fell asleep a few minutes into the match and woke up in time for The Man to make her entrance, that's how exciting it was for me. I also regret going back to watch it afterwards because it was definitely a (s)low point of the night. The Renee stuff needs to stop and there needs to be a bit more heat in the feud than just Ambrose being a smarmy twat. Or maybe they just need to stop having a feud or partnership every year?
7. Johnny Gargano (NXT)
Maz: Not watched NXT yet. This is all you, big boy!
Randy: I told your wife to stop bragging to you about my size. Ahem. Mr Wrestling has been walking the thin line between what is right and what is insanity since he was revealed as the attacker of Aleister Black but this week the mask slipped to possibly reveal his path. He believes that he's the hero of the story but during the cage match, flashes of a sinister look broke out here and there. The interference by Ciampa and subsequent double team finisher on Black hints at a DIY reunion but I wouldn't bet on it yet. Tommaso is Palpatine and Johnny the Anakin, he'll lure him to fully embrace the dark side eventually with the long game.
6. Ronda Rousey (Raw)
Maz: Ronda continues to prove she has a natural ability for pro-wrestling. She has not made many of these lists but she has often been contending for spots. Once again she managed to get a very good match out of Nia before getting revenge on Charlotte and Becky. The champ will now have a little side story with her buddy on Raw and it looks like a very interesting Road to Mania will be set in motion at the rumble.
Randy: Ronnie still manages to surprise me every time she has a match and I always end up being entertained by the end of them. I'm not even mad she cost Lunch* the title because my prediction from last week is on track to bear fruit and it will be one a few things to look forward to on the Road to Wrestlemania.
[*Note From Maz: I saw this typo but thought it would be funnier to leave in]
5. Mustafa Ali (SmackDown Live)
Maz: So Ali is now a part of the blue brand. While I froth at the mouth at the idea of him battling El Idolo in a 20 minute match, the world sings his praises. He got a main event spot this week and pinned the WWE Champion. That is huge. He has been made pretty much immediately on his new brand and the future looks very bright for the guy. You being sold on him yet, Randall?
Randy: Nope. The mouth breather nearly took Bryan's head off with the 054 last night and I'd rather his push was given to someone more deserving like Almas or even Rusev. I'm sure he'll put on some great matches but he'll be in the Rey Mysterio "underdog" role in no time and fade into the background like all the rest of the cruiserweights. (hurt me to say that as I love Gulak and Murphy)
4. Becky Lynch (SmackDown Live)
Maz: While no longer the champion, Becky remains The Man. The main event of TLC was absolutely brilliant. Becky tore it up in a brutal and exciting match which was full of story. The Ronda run in was fantastic and leaves us on the verge of the most anticipated rumble match in years. The Lynch momentum shows no signs of slowing and there will be huge support for her should she enter the rumble match to take a run at Rousey for Mania. That said, it will mark 5 years from the last time we were hyped for a highly popular rumble winner and he never even got in the match.
Randy: Don't tempt fate Maz, although I'd love to see the vitriol if she wasn't entered into the Rumble. I know I predicted her to lose then win the Rumble last week, but I have a new one just to spice it up. What if Becky issues her receipt by costing Ronda her title in a defense at the Rumble? That way they can have an interpromotional grudge match at Wrestlemania without any titles. Would make for an interesting build if they're allowed to invade each others shows but that sounds like too much effort for a creative team that runs on autopilot.
Maz: And just as I am posting I see she will have her rematch with Asuka at the rumble. If she loses that match, we may just see 2014 all over again!!
3. Asuka (SmackDown Live)
Randy: Like I said last week, I would not be mad with an Asuka victory over Lynch and although it set up Ronda/Becky down the line it makes The Empress' victory seem a bit……lucky. With Flair and Lynch breathing down her neck she already has two immediate contenders to her title and what I want to see is a convincing victory over one or both ladies, just to get that momentum going into Wrestlemania as champion. If she lasts that long……
Maz: It is set up brilliantly. Asuka gets her mojo back and finally gets her due. Becky and Charlotte in turn get motivation to want to take the title from the champions on both brands. Both Lynch and Flair seem to be more pissed with Rousey for now and it leaves everything wide open. I have no idea what Asuka's path to Mania is right now and I quite like that. There is a feeling that anything can happen and it is great to have her back in the spotlight again.
2. Charlotte (SmackDown Live)
Randy: I don't have much to say about Flair because quite frankly, my dear, I don't give a damn. She shouldn't be on this list and she shouldn't be near any titles for the next year. Tired of her shit.
Maz: Controversial. I am not the biggest fan of Charlotte but she clearly has talent and presence. And she had a fantastic week. I think her ranking this week warrants her TLC performance in that she probably just about edged out Asuka and Becky as the MVP of the match. She has had match of the year contenders with Asuka and Becky in singles matches and now in a triple threat. Pretty good year for the Queen I would say.
1. The New Daniel Bryan (SmackDown Live)
Maz: I love the old Daniel Bryan and I am loving the new Daniel Bryan just as much. You have the most popular act of the decade in WWE turning heel on a dime and making it stick. His preachy grunge eco-warrior character has given him the jolt to the system he had been missing since his return. He gave us a late match of the year contender at TLC and followed it up by putting over the newest member of the SDL roster. He is back to his very best right now and I get the feeling a fantastic 2019 awaits him.
Randy: I read an article claiming that Bryan changed the strap of the WWE Title to something a bit more humane due to it being leather. It's the small things that makes this heel turn great so. Far. Still a bit of caution going forward into the new year though because you never what could happen inside and outside the ring *glares at Ali* but I will be enjoying it regardless throughout.
So there we have it. My return to save you all from Randall is complete. Daniel Bryan takes top spot in a very busy week with a whole lot going on. A very strong PPV in addition to a move to change TV suddenly has given some hope as we move into the new year. Will there continue to be a platform for marginalised talent going into WrestleMania season or will it just be an attempt to shock the system (no-UE) before bringing all the old farts and part timers back? We shall see. Be sure to send your comments on Twitter on in the comments section below.
You can also check out the latest episode of The Right Side of the Pond, where Plan, Maverick and myself look at some of the talking points of 2018.
Until next week, peace!