'Sup, Lords of Pain? So I didn't boycott Crown Jewel. My personal view is that if I felt so passionately about companies doing business with Saudi Arabia, I'd actually put in the effort to do my homework and boycott all of them, not just the one that has had to promote the fact they are because of the nature of their business. I really wish I did have some moral outrage though because what a terrible show it was. It has seriously put December to Dismember under pressure for the title of worst WWE show ever and it got to a point where it was just laughable. It did fall within the voting period for this week's Power 10 however, I received the majority of my votes before the event started and nothing on the show made me want to factor stuff in, so this column ends up as a Crown Jewel-free zone. With the ladies absolutely killing it at Evolution however, it won't be a big miss at all.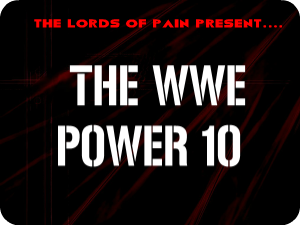 Week Ending 2nd November 2018

10. The Riott Squad (Raw)
This first entry is actually a personal choice for inclusion (perks of being the writer). If there was one word to sum up the Riott Squad's main roster work to-date, it would be "meh". They came in and have pretty much been a team of jobbers. I found the card at Evolution to be disappointing and for Ruby, Liv and Sarah to get a featured match when so many talented ladies were being thrown into the battle royal was frustrating. I thought they stepped up big time on the night however and really proved their worth against a much higher profile trio in Natalya, Sasha and Bayley. Riott did a great job in leading the team with her experience and Morgan and Logan (who I have developed a huge crush on for what it's worth) are both growing before our very eyes. They followed it up with another solid performance in the 10-woman match on Raw. With an abundance of female talent on the roster with limited storylines, I don't see the Riott Squad's role changing anytime soon, but after this week I am certainly more confident that when the opportunity arises, any of these three ladies will have the potential to grab it with both hands.
9. Dolph Ziggler (Raw)
Okay, so maybe a little bit of a Crown Jewel influence in the list this week. Dolph was in contention for a spot based off another strong Raw performance, but clinched it by wrestling 3 matches in one night in Saudi Arabia. It was shaping up to be a great night for Cleveland's favourite sons, Ziggler and Miz. With Cena boycotting the "World Cup", it looked like the pair were about to put a decade of burial behind them when they made the final. Then of course Shane O'Mac jumped in and the rest is history. Poor Dolph had to do the job too but that was following a slightly awkward dream match for the guy against Kurt Angle and another in a long line of great matches with Seth Rollins. Add that to his Raw performance against Apollo Crews and touch of cockiness which seems to be getting to McIntyre, and it's been a very good week for the Show Off.
8. Nikki Cross (NXT)
Crazy Nikki is still winning hearts for her work down in NXT. Despite the "who attacked Aleister Black" mystery being settled, Cross is still dining out off what she knew. We had a confrontation with Mrs Wrestling which certainly made it seem that Candice would be following Johnny to the darkside (black lipstick tends to be foreshadowing). She also had a very fun little match with Mercedez Martinez. I was very happy to see Martinez wrestling on NXT after two strong showings in the the Mae Young Classics and she carried that talent into the bout with Cross. Nikki would pick up the victory and you'd have to assume that her current run and popularity will see her going up against the NXT champion sooner rather than later.
7. Dean Ambrose & 6. Seth Rollins (Raw)
So we went into Raw this week expecting answers and reasons from Dean Ambrose for his attack on his "brother" last week, and so did Seth. Dean certainly wasn't in the mood to be giving them however. We have seen some knock down, drag out battles between this pair whilst feuding however this was much more subtle. Ambrose's facial expressions whilst refusing to even attempt to justify his actions coupled with Seth growing more and more annoyed made it a fantastic segment. Once again, the pair seem to buck the WWE trend of inconsistent character work to continue telling a really good story about friendship and rivalry. I am definitely going to enjoy this playing out over the next few weeks and it will be my default main event of the red brand now that the Universal Championship is sadly back around the waist of Brock Lesnar.
5. Shayna Baszler (NXT)
The new NXT women's champion had another great night at Evolution. Baszler is definitely a funny one. She doesn't have a wide varied game but she seems to be excellent at everything she needs. She oozes confidence as the cocky badass heel. Quite how long she can sustain that without the act getting tedious, I am not sure but considering how quickly she seems to have taken to pro-wrestling, I would be willing to put money on her expanding her game going forward too. With her fellow horsewomen now backing her up, I full expect them to create a path of destruction on NXT and you have to wonder just how long it will be until they bring Shayna up for an inevitable showdown with buddy Ronda.
4. Daniel Bryan & 3. AJ Styles (SmackDown Live)
There were rumours circulating for a while that Daniel Bryan had refused to go to Saudi Arabia and the events of this week's SmackDown Live showed them to be true. Thankfully we weren't robbed of our match between Bryan and Styles. I am sure we shall see it on a bigger stage again at some point down the line but in the short term, Saudi's loss was Atlanta's gain as we got the WWE title match on TV. For free. I mean my Sky Sports sub is way more than my WWE Network sub, but I digress. Disappointment has been the key word of the Yes Man's return to the ring so far. The booking and writing have definitely not helped but I think he has to shoulder some of the responsibility too. The same can be said for this lengthy title run AJ is currently in the middle of. We have seen flashes of the brilliance of both men throughout the year and Tuesday night was another of those times. If it wasn't for Evolution they would have comfortably taken match of the week and it's has definitely left me wanting more. With Samoa Joe's attack of both men and comprehensive defeat at Crown Jewel, I do wonder where this goes. AJ will be sidetracked with Lesnar for the next couple of weeks you would have to assume. It's yet to be seen if Daniel will take any heat for his refusal to work the Saudi show but a feud with the Samoan Submission Machine would make sense with both men likely to be Team SmackDown candidates at Survivor Series. I think that could be some fantastic TV in the upcoming weeks.
2. Charlotte Flair & 1. Becky Lynch (SmackDown Live)
There was one match everybody wanted to see at Evolution and I think that it is fair to say that Becky and Charlotte duly delivered. The last woman standing match was a fantastic battle and a genuine match of the year contender. When the smoke had cleared, we all got our wish and Lynch emerged as "The Man". She immediately switched focus to Ronda Rousey at Survivor Series whereas Smackdown Live saw Charlotte enter a phase of questioning her ability as she turned down Paige's initial request for her to captain Team Blue in the elimination event. So with the rivalry done, at least for now, there is one question that remains. Have we just witnessed the greatest women's feud the WWE have ever given us? While a series of good matches, I didn't think that the Charlotte and Sasha feud was as great as a lot of people made it out to be and was a little forced, particularly in the later stages. Looking further into history, Trish and Mickie jumps out but that really doesn't hold up too well these days. And while the whole Al Wilson storyline is one of my favourite ever pieces of wrestlecrap, I can't seriously put Torrie and Dawn Marie in the mix (can I?). The only thing that is really in the same league right now is Sasha and Bayley from NXT, but do we even count NXT in "Best of WWE" lists? That's an argument for another day but let's just settle for now and crown The Queen vs The Man WWE's greatest main roster female feud to date. As amazing as it has been, I hope another pairing can come along and top it soon. The women's revolution has given the ladies a platform to show off what they can do and while a bar has been set, there is still plenty of room to raise it. And with the form The Lass Kicker is on, who would rule out her doing just that with another partner before the year is out?
And there is another week in the books ladies and gentlemen. It is still the weekend so let's all drink to forget about nightmare that happened at Crown Jewel and hope WWE are quick to put it behind them and build to Survivor Series. I do love the concept of the show being SmackDown versus Raw and it has helped revive the event to its rightful Big 4 status. With the build to TakeOver War Games fully underway as well, in addition to some exciting things going on NXT UK and 205 Live, I look forward to another regular week of WWE programming next week. In the meantime, if you have any thoughts on this week's list, feel free to hit me up below or on Twitter.
You can also check out the latest episode of The Right Side of the Pond, where Plan and Maverick have the unenviable task of reviewing Crown Jewel immediately after the fact.
Until next week, peace!