'Sup, Lords of Pain? Your eyes do not deceive you, the Power 10 is back again after a week hiatus. Various factors like Mazza STILL being conveniently busy (yet still able to do a TRSOTP this week?!), me going a bit hard on the alcohol and the fact that last week in the WWE sucked contributed to the lack of a post. Never fear though, I'm taking my alcohol now (and less of it) to bring you…..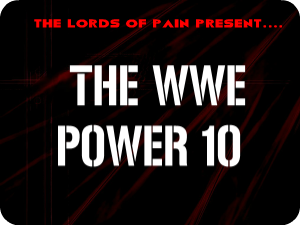 Week Ending 7th December 2018

10. Lucha House Party (RAW/205 Taped)
Let it be known that I hate these guys and I'm sticking them at the bottom. They've been getting screen time recently with their 'Lucha House Party Rules' matches yet I'm struggling to understand how they're not the heels throughout this. Keep them on 205 out of the way instead of wasting talented teams like The Revival.
9. The Revival (RAW)
I stuck these guys here out of some sort of misguided loyalty to my (current) favourite tag team. Their misuse on the main roster is criminal and the fact they're being the luchadores bitches is infuriating. Main roster tag team wrestling isn't in the best shape right now and I don't think it's going to get better any time soon with crap like this happening.
8. Asuka (Smackdown Live)
The rebuilding of Auska is underway as we head towards Wrestlemania and I can see her being in a main position when the time comes. Her tit for tat with Charlotte this week was amusing and adds fuel to the short build towards TLC. I'm for a 1 on 1 with Becky (RIP her P10 streak) after this is done, maybe at the Rumble with Asuka or Becky winning the strap at TLC?
7. Drew McIntyre (RAW)
The one major mark against the Scotsman is that he was beaten by Dolph Ziggler, of all people. Other than that, he has had a strong presence every week on RAW and you have to think it's going to equate to a main event/Universal Title run soon. I would like to see him against Brock Lesnar but only if it wasn't "Beast mode" so until the title is taken off of him (by Braun?), I'd rather he just continues featuring in high profile situations. Less of the defeats to the likes of Ziggler as well, please. Thanks.
6. Dean Ambrose (Raw)
I'm over the heel turn already and I shouldn't be surprised really. Instead of having the crazy Jon Moxley "Joker" bad guy from his indy days we get this poor insult throwing moron that doesn't really justify his turn? If you haven't seen heel Ambrose from his indy days, Google it. Or don't, because you'll be disappointed with his current stuff if you witness his greatness. Typical poor WWE booking, AMIRITE?!
5. Samoa Joe (SmackDown Live)
Bray Wyatt…..sorry, Joe, is making good use of his screen time after returning from injury and it's great to see. He's a believable talker but unfortunately comes up short when it comes to the nitty gritty. I'm hoping he gets a win of Jeff when they finally square off because he needs it but is that really an accomplishment when Jeff is basically a legend at this point? Give this man a run with the United States title and work it from there.
4. Tomasso Ciampa (NXT)
The NXT Champion is a breath of fresh air with his old school heelish ways. He's the most hated guy in NXT although I feel like it has subsided a bit the last few weeks. He done a good job in the main event by turning the attention of a title rematch with Aleister Black to a cage match between Black and Johnny Gargano although paid for it with a Black Mass, but it was entertaining to see him easily turn the tables on his title opponents. Keep him with a lengthy reign to have people chomping at the bit for his defeat so that when it happens, the winner will be a made man.
3. Mark Andrews (NXT UK)
The first half of the barn burner on NXT UK deserves his fair share of praise too. I've known the Welsh lad since he popped up in TNA/Impact but never thought much of him until he joined WWE, not that he has been featured much. He plays the underdog pretty well and I (ironically) had him winning against Aichner so was pleasantly surprised when he lost (Fabian fan as you'll see below). He has an eye catching arsenal and would fit well against Buddy Murphy on 205 Taped if he ever transitioned there again. Until then, he's the sugar rush on a show that is mostly mat based and that's not a bad thing.
2. Doug/Danny Basham (NXT Street Corner)
*checks message from Mazza*
Okay, it seems this isn't one of the Basham brothers but in fact a favourite of Mav and mine, Fabian Aichner. He first popped up during the Cruiserweight Classic and impressed me with the limited time he had and has done so within NXT and now the UK variant. He doesn't seem to have much of a gimmick at the moment but the man can go. His match with Mark Andrews on NXT UK this week was a scorcher and his strength impressed the shit out of me. Catching Mandrews off of a springboard right into a suplex was a thing of beauty and his spinning powerbomb finisher is something different from the usual riff raff. More of him please.
1. THE NEW Daniel Bryan (SmackDown Live)
If Mazza had his way, that god awful cardigan would've been here instead but thankfully I'm the Captain (for) now and that shit won't fly. It's funny how much I was down on Bryan just a few short weeks ago yet a title/ball shot later and here he is, being one of the best things about Smackdown. His manipulation of using Miz against AJ, all while acknowledging that Miz was right about him all along, shows how much he has changed. His stint on commentary was great too and if they're going with the Greenpeace/hippy path akin to CM Punk's straight edge schtick back in the day, I'm all for it. Nothing worse than listening to someone who thinks they're better than Kanyon you.
Tell you what, the main shows are a chore to get through and that's with me doing it via match/segment hunting after reading the results. Smackdown is the lesser of two evils but 205 and the NXTs have it right with the 'less is more' approach. We can dream of that happening with the main roster but I have more chance of winning the lottery. If you want to hurl abuse at Mazza for no showing his own column, here's your chance.
You can also check out the latest episode of The Right Side of the Pond that he was miraculously available for, where he and Maverick discuss ways to fix WWE's TV quality.