Note from Mazza: 'Sup, Lords of Pain? Been a bit hectic right now, but luckily I have a back up plan for weeks just like this. I shall be making a cameo on this week's column to discuss entries 7 and 8 however I will be leaving you in the capable hands of my protege.
What's the craic, Lords of Pain? No, Mazza hasn't turned Irish on you, it's just Super Hoody filling in for the Brit. He copped Red Dead Redemption 2 yet he's claiming he was for branching this out with other writers down the line. Sure thing buddy. Anywho, it's the weekend so that can only mean it's time for the WWE LOP P10. Very interesting week with lots of newsworthy happenings, so let's get to…..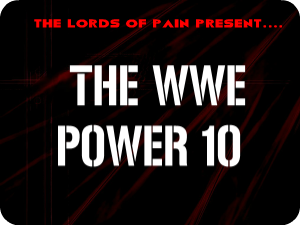 Week Ending 26th October 2018

10. Becky Lynch (Smackdown Live)
The (wo)man barely clings onto the streak this week with only one prerecorded showing, that being the scuffle with Charlotte Flair at the WWE Performance Centre. Wise move to give the ladies some resting time as I'm sure the Last Woman Standing match will be brutal and probably the MOTN. My fellow countrywoman has been killing it with the attitude and I hope it continues after Evolution as champion. Extra points for threatening to slap the head off of Rhea Ripley on Twitter.
9. Zack Gibson (NXT UK)
Making his debut this week is a man that is probably more hated in the (NXT) UK than Theresa May. The 2018 United Kingdom Tournament winner got his excuses in about not beating Pete Dunne for the title and then turned his attention to Noam Dar for getting a shot before him but it's the crowd response towards him that is the talking point. They booed him that much the mic had to be turned up just to hear him. That is hatred right there but here's an idea of what the heat is like without the WWE editing it (thanks to former main pager Leaf for this)
The Scouser (can see why we all hate him) is the top heel on the UK brand and I expect him to dethrone Dunne sometime soon. That will be a spectacle.
8. Rhea Ripley & 7. Meiko Satomura (MYCII)
At Evolution we are about to see Toni Storm and Io Shirai do battle in the final of the second Mae Young Classic tournament. Both have impressed over the last few weeks however my perfect final would have seen the other Australian taking on the other Japanese lady. Ripley and Satomura have been such excellent value during this tournament and both bowed out with fantastic performances this week. I think Ripley has come such a long way since the last tournament and I look forward to seeing her regularly on NXT UK. Satomura has just been magnificent. Her legendary career has seen her get a chance to show just how good she is to the WWE universe and she has grabbed it with both hands. It was a genuine star making performance against Storm and I really do home that the WWE can find another cameo for her in the next couple of years before she finally hangs up her boots.
6. Hideo Itami (205 Taped)
The first half of the excellent Falls Count Anywhere may have come up short in his battle against Ali but he looked great even in defeat. Moving to 205 has been a blessing in disguise for Hideo (who'd have thought) as his NXT run was plagued by injuries and nothing else. His vicious streak makes for entertaining stuff and he'll rebound from this by targeting some other sorry soul. At least he has always had Ali's respect, right?
5. Drew McIntyre (Raw)
The Scotsman has a tall order ahead of him. After blasting Strowman with a few Claymores over the last few weeks, he has to be looking over his shoulder. With the Tag Titles being lost thanks in part to the Monster (no Abyss), it's safe to say that partnership is over. That can only mean good things as Braun has a match for the vacated Universal Title and if he wins, Drew will surely be the first in line for a crack at it.
4. Seth Rollins (Raw)
What a rollercoaster Monday night for Seth. After embracing Reigns with visible anguish etched across his face, he had to suck it up to battle for the Tag Titles alongside Ambrose. What should've been a sweet winning moment for them ended with Rollins taking a brutal beating from Dean yet he never fought back. Seth is obviously the number 1 face of RAW and this just solidifies it. How he reacts to this will make for interesting viewing and further the excellent multi year story between the two guys.
3. Mustafa Ali (205 Taped)
I don't understand the love for this guy. Maverick, Plan and god knows who else cream over him on Twitter every week. The man is talented, I'll give him that, but I'm more of a Drew Gulak and Buddy Murphy kinda guy. Saying that, he was the other half of the excellent Falls Count Anywhere match this week and the dude is racking up an impressive list on must see matches. If you haven't seen it either, he has a promo hyping the match in the rain that is pleasing to watch and shows he can talk too. Will there be a title match coming his way soon? I'd say so.
2. Roman Reigns (Raw)
I haven't said much about what has transpired with Roman since the reveal on Monday night, so I'm going to try and keep this short. I may detest the guy (or the way he has been booked) but I do no wish anyone to get any form of cancer in their life. Relinquishing the title has thrown a spanner in the works with the RAW main event scene but it makes for interesting times, as morbid as that sounds. I wish nothing for the best in his upcoming battle and hope he pulls through.
1. Dean Ambrose (Raw)
"Not tonight, not THIS night!" We all knew it was going to happen eventually but Michael Cole could not have made the turn sound any more important than he did on Monday night. With the shocking opener still hanging over their heads, the other 2 Shield buddies rallied together to face AND dethrone McIntyre and Ziggler for the Tag Team Titles. A small comfort as their brother faces a different kind of opponent. Not for Dean. The beat down, while screaming like a lunatic (puns welcome but please don't hurt me Dean), was played out perfectly and raises big questions about the Tag Titles and the reasoning behind the attack. On the plus side, we now get to see Ambrose as the singles heel people predicted him to be when the Shield first burst on the scene. Almost makes me want to start watching RAW again……
There you have it ladies and gents. A huge thanks to Randall for taking the reins this week. With a killer couple of months work wise, and being an imaginary cowboy wise, expect to see him return soon. As always, if you have any comments or thoughts on this week's list, feel free to share them below or hit us up on Twitter (be warned, Randall's isn't for the faint of heart).
You can also check out the latest episode of The Right Side of the Pond, where Maverick and myself look ahead to Evolution, in addition to discussing the big events surrounding 3 of the this week's top 4 on Raw.
Until next week, peace!