'Sup, Lords of Pain? An interesting week has gone by in the world of the WWE, with Becky Lynch and Ronda Rousey swearing up a storm on Twitter and Vince McMahon possibly playing himself on-screen for the first time ever. As in, an out of touch/deluded/senile man that we all think he is behind the scenes anyway. With another week until Fast Lane, the main roster has been shaken up but what about the Network shows? All this and a surprise appearance (if you can figure it out, I'll give you a shout out next week) in………..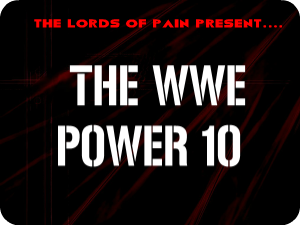 Week Ending 2nd March 2019

10. Tyler Bate (NXT UK)
The B I G S T R O N G B O I (is that how he does it on Instagram?) made a rare singles appearance on UK this week and he reminded us that while he can put on clinics in tag matches alongside Trent Seven, he can also produce them on his own. Against a wily Jack Gallagher from 205 Live, he more than held his own against the grappler and came out on top with a basic schoolboy. Gotta love the old school way from the Brits. At 21 years old (he's 22 in 5 days), he has already got a collection of Match of the Night/Year hits and can only get better from here, if he isn't at his best already.
9. Mia Yim (NXT)
I personally haven't kept up with what Mia has been doing since her fun run in TNA a few years back but after researching it, she seems to have been doing alright for herself. She looked to get some kind of revenge against the woman who put her out of the first Mae Young Classic in the main event of NXT and while she came up short, she showed why she was signed to WWE after her second attempt at the Classic. NXT is brimming with female wrestlers and if they're not going for the Women's or Tag Team Titles, should they introduce a secondary title akin to the Intercontinental, United States or North American Title? Would give people like Mia something to do instead of being random opponents every other week.
=7. Dominik Dijakovic (NXT)
Dijakovic has only been showing up recently but it's clear there are big things in store for him. He's 6'7 and nearly 300 pounds (doesn't show) yet he is deceptively agile. His first big test came during NXT against another deceptive competitor in Keith Lee (more on him below) and after exchanges that only cruiserweights should be able to do, the power/brawling game came into play which ultimately cost them both. Dominic told Keith he'll "see him later" and I'm all for it if it's a longer version of what they produced this week.
=7. Keith Lee (NXT)
I dig the other half of the entertaining match on NXT. He's charismatic, deceptively agile as previously stated and uses The POUNCE as a move like Monty Brown did in TNA years ago (I miss him). The crowd loves him too, constantly chanting his catchphrase and being into everything he does. It looks like he will face off with Dijakovic again and (allegedly) the reason they were signed to NXT was because of a match they had in Pro Wrestling Guerrilla: Battle of Los Angeles 2017. I can't wait.
6. Jack Gallagher (205 Live)
The English cruiserweight went home this week and even dusted off the classic trunks for his match with Tyler Bate. He always manages to make his matches fun and with Bate as a more than capable opponent, there's magic guaranteed. I've been a fan of him since he first debuted in the Cruiserweight Classic but I feel like he has done everything he can do in 205 bar winning the title, so a permanent move to UK would be a welcome sight with fresh opponents and he'd more appreciated with the crowds. Another, LONGER match with Bate would be a bonus too.
5. Danny Burch/Oney Lorcan (NXT)
Danny and Oney compliment each other so well as a team. Burch is the tough son of a bitch veteran but plays the face in peril and Lorcan is the house on fire with the hot tag. They don't need a fancy tag team name or flashy maneuvers, they just want to beat the shit out of you and get the win. They've been quiet due to a Lorcan injury since their match against Undisputed at Takeover months back but they show just what they can do when provided the opportunity. With NXT being full, they'd be a welcome addition to UK as they don't have many tag teams that can challenge Gibson and Drake for the titles and be relied on for fun matches along the way.
4. Kevin Owens (Smackdown Live)
Move over Kofi, there's a more deserving guy in line for a WWE Title shot. That headbutt must have scrambled Vince's brains or maybe he's just a forgiving guy, but putting a noticeable slimmer Owens into the match a week before the show is a bit silly and this is coming from a KO fan. Fans booed the decision but were cheering him at the end of the tag victory in the main event after he stunnered the WWE Champ. Maybe Bryan is right, we fans are FICKLE! Either way, the match is something I can look forward to now (not a fan of Kofi) and it's guaranteed to be a good one but I feel it's just filler until Kingston gets his match at Wrestlemania.
3. Batista (RAW)
Big Dave may have only made a brief appearance at the end of RAW but it was a biggie (no Smalls), "destroying" Ric Flair on his 70th birthday and calling out Triple H. This was teased back during the 1000th episode of Smackdown but I didn't actually think they'd go through with it. Business wise, it's a smart decision due to Batista's visibility within the world of Hollywood but wrestling wise, it could be a disaster. Trip's isn't the wrestler he used to be and if Bats' return in 2014 is any indication, he might not be in great shape either. The common denominator? Age. They're not young pups anymore but if it gets the buys/views, WWE won't care.
2. Grizzled Young Veterans (NXT UK)
Zack Gibson and James Drake got a lot of love in the votes this week and for good reason. They're showing why they're the NXT UK Tag Team Champions with a fantastic outing against the aforementioned Burch and Lorcan from NXT. Gibson is still universally hated and that hate transfers to Drake due to association. Still not familiar with Drake though but he compliments Gibson well and their Ticket to Mayhem finisher is quickly becoming a favourite of mine. Who's next to step up to the plate? I wouldn't mind a rematch between these two teams in the future.
1. Roman Reigns (RAW)
Mazza: So, Randall isn't ready to say nice things about The Big Dawg just yet so I have tagged myself back in to deal with number one this week. I am sure I speak for everybody when I say just how pleased I am he has managed to Superman Punch and Spear leukemia into submission. I am sure he will have a short period of grace with the fans now too however if we do see a return to the type of booking he has had since the original Shield split, I am sure the old reactions will return. In the short term though I very much look forward to what he can bring to the table. A Shield reunion following the flop that was the Ambrose heel turn would be good and if he does convince his buddy to sign a new contract, how about a nice little tag run to Mania? Top Guys vs Roman and Dean would work for me.
Randall: Well that does it for this week. Reigns makes a triumphant return, Kingston gets kicked out of the Fast Lane title match and Batista hopefully has HHH's attention now. Are you looking forward to a possible Bats/Trips match at Wrestlemania? How do you feel about the return of Reigns? Comment below with the love, hate or tweet Mazza here (even though it's still me, Randall, doing these lol)
You can also check out the latest episode of The Right Side of the Pond, where Plan and, Maverick look at the best WWE matches of the decade.
Until next week, peace!