'Sup, Lords of Pain? It may be 2019 but Mazza is still up to his Lesnar-esque appearances on his own column so today I'm flying solo. I nearly had former Main Pager Skitz joining me but he's content sitting in the forums (great place, check it out) or wallowing in self pity. Anywho, lets get down with…….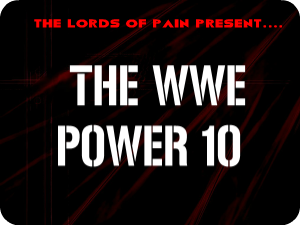 Week Ending 18th January 2019

10. Dave Mastiff (NXT UK)
I love this guy. Vader was a favourite of mine because of his unique look and ridiculous speed so I can see why I gravitate towards Mastiff. His no DQ match was a fun romp and he even bust out a springboard moonsault/body press that had me marking out. With no midcard title (yet) he may flounder for a while in meaningless feuds but I can see him being a solid chaser if and when a title is created.
9. Toni Storm (NXT UK)
I wasn't aware that Toni received this match due to winning the Mae Young Classic but it's good to see that it wasn't for naught. The girls had a decent match but I found it hard to keep concentrated on it and zoned out. The women's division is a bit shallow and still a work in progress but with a new champion at the helm it'll spring into life soon.
8. Jordan Devlin (NXT UK)
Finn Balor lite got more than he bargained for when his mentor showed up to replace the injured Banks in Blackpool. He had a good showing, letting us know he's a force to be reckoned with, he's just not on Balor's level. Devlin is also great at being the cocky bastard and it's what Balor should be if and when he turns heel. Hell, let them lads run about spouting some Republican slander and give them the Tag Titles. The UK would understand it but I'm sure any outside viewers would.
7. Rey Mysterio (SmackDown Live)
He may have been on the losing end this week but to quote a crowd chant, Rey still has it (clapclapclapclapclap). He rolled back the years during his match with Andrade and showed he has still plenty more in the tank. I was skeptical of him returning but he has proved his worth by being consistent every week. I expect another strong showing in the 2 out of 3 falls match next week but he'll come up short again (pun intended?)
6. Bobby Lashley (Raw)
The Almighty captured the Intercontinental Title for the first time on Monday night in a shock move that I sure as hell didn't see coming but welcome all the same. Rollins has been a part of the scene for nearly a year now and I couldn't see Ambrose doing anything with the belt any time soon so it's nice to see someone new holding it. Lashley might not be everyone's cup of tea but I've been enjoying his heel turn with Rush as his mouthpiece (bar that bloody "Lashley" chant) and even enjoyed his work in TNA/Impact when he was the big bad. Be interesting to see what his path is coming up to Wrestlemania.
5. Pete Dunne (NXT UK)
Myself and mostly everyone else bet the house on Dunne losing the title in Blackpool last week but here we are a week later and he still stands atop the NXT UK mountain. It wasn't easy going for the Bruiserweight who had a hell of a challenge in front of him and to make matters worse, a potentially new challenge appeared after the finish. WALTER could finally be the man to beat Dunne and I'm down for it. As much as I love Dunne, I want him to go on to better things and he isn't going to do it as UK Champion. The problem there is, how do you top a 600+ day title reign?
4. Joe Coffey (NXT UK)
The Iron King shockingly failed to dethrone Dunne for the UK Title and was then made to look like a bitch by the debuting WALTER. He put on a good showing though and will surely win the title eventually but for now it's back to the drawing board to regroup with his fellow Gallus mates in the face of adversity in WALTER.
3. Grizzled Young Veterans (NXT UK)
Zack Gibson and Curt Hawkins…..sorry, James Drake, became the inaugural NXT UK Tag Team Champions by beating Mustache Mountain in a fantastic tag match. The crowd showed their hate for Gibson in particular with their "if you hate Gibson, shoes off" chant (their "are you watching Vince McMahon" chant during the main event was also hilarious) and I'm glad they won the titles because Mustache don't need them. Looking forward to more vitriol towards Gibson in the future.
2. Finn Balor (Raw)
It took him a year but the lad from down South finally has his date with Brock at the Rumble. People are writing this off as a mauling but as evidenced by Lesnar's matches with AJ Styles and Daniel Bryan (hell, even CM Punk), smaller guys bring out the best in the Beast. We can hope for the Demon to appear to make even more visually interesting and I would not be shocked if he actually wins because as we all know, Lesnar has grown more stale than The New Day (I still love you Big E).
1. Andrade (SmackDown Live)
Almas…..sorry, Andrade, falls victim to name shortening and joins the likes of Elias, Apollo and Cesaro this week. He also had a fantastic match with Rey on Smackdown Live that left me begging for a match between them on PPV. Instead, they're going to go at it on television again next week in a 2 out of 3 falls match. I like that but I'd prefer they had something to fight for instead of having this throwaway match. I shouldn't complain though, more Andrade can only mean good things.
Even though I have had no input in this column whatsoever, you can follow me on Twitter below. If you feel the need you can also send Randy lots of love for this week's P10 in the comments section.
You can also check out the latest episode of The Right Side of the Pond, where Plan and Maverick take an early look at WrestleMania season.
Until next week, peace!