'Sup, Lords of Pain? In a strange twist of fate (no Matt Hardy), Mazza and I have traded places within the wrestling world, with myself only seeing two segments via YouTube and Maz actually keeping up to date throughout the week for once. Thus, I turn the floor to the OG to give his thoughts on the week in WWE, with myself possibly popping up with quick thoughts on what I've saw. Enough time wasting, it's time for………….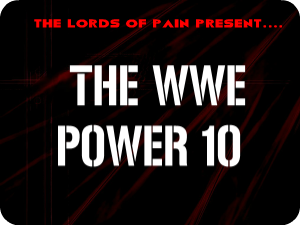 Week Ending 16th March 2019

10. The Revival (Raw)
So I've not paid a great deal of attention to wrestling over the last few weeks. One of the things I enjoyed immensely tuning into Fast Lane was the fact that Top Guys were living up to their moniker. The triple threat tag match was like a throwback to the way they were tearing it up in 2019. Roode and Gable have turned into great adversaries and this new makeshift pairing of Ricochet and Aleister Black are really unlucky not to make it onto the list in their own right this week considering they had another excellent tag match on NXT. But this is about Dash and Dawson. They have the Raw tag titles. They finally have a main card PPV appearance. They made the most of it too, showing innovation in a very exciting bout. Will it give them a main card Mania match? I sadly doubt it right now with how the card is coming together, but hopefully this showcase will see them getting more respect as we head into a new WWE season.
9. Moustache Mountain (NXT)
Imagine being flown in all the way from the Midlands to Florida just so you can job to lame Sons of Anarchy rip off! Tyler Bate and Trent Seven weren't going to miss an opportunity to show off however. Once again they showed exactly why they have become anchors of the NXT UK brand, even before it had their own TV show. They made The Forgotten Sons look pretty damn impressive in their Dusty Classic semi final. You would have to assume it's back to this side of the pond for the duo now to continue their run on NXT UK. You would have to think that they will eventually grapple those tag team titles away from The Grizzled Young Vets.
8. Johnny Gargano (NXT)
Johnny Wrestling is back. I think that is a good thing because I never quite bought heel Johnny. While he was interesting off the back of that long feud with Ciampa, the guy is such a natural babyface it never quite stuck for me. We got to see the best of Gargano this week. DIY's match with Ricochet and Black was excellent with the pair looking like the team of old for much of the bout. It was the post match however than nailed down his place on this week's list. With a big nod back to their history, Johnny feigned injury and waited for the real Psycho Killer to reveal himself. The moment where Gargano revealed that it was all a set up was brilliant. While this seemingly endless feud with Ciampa will likely continue on his return from injury, it gives us the Johnny we all love for the meantime. Quite what that means for Gargano though I am not sure. He has been exposed to the main roster now and you have to wonder whether that is where his future lies. I think it is time to put his NXT career behind him with a last hurrah on Mania weekend to give him a great send off.
7. Andrade (SmackDown Live)
In a late change to the Fast Lane card, Andrade vs Rey Mysterio was merged with new US champ Samoa Joe and former champ R-Truth in a rematch from last week's SmackDown. It's the kind of match that has you scratching your head around why it needed to be on PPV. But then you watched it and loved every second. Will it be memorable down the line? Probably not but it was a great addition to the card on the night. Samoa Joe is a fantastic talent. Rey Mysterio is rolling back the years. R-Truth is hanging. El Idolo was once again the standout for me however. I love Andrade. He is fast become one of my absolute favourites in the company. He is still very much a bit part player on SDL but with the level he is performing at whenever he gets the chance, it is only a matter of time before their are bigger things in his future.
=5 Randy Orton and AJ Styles (SmackDown Live)
The bloating of part timers at WrestleMania in recent years has seen a staple of the event go into serious decline. Featured midcard bouts are what great Mania cards are built on but they have fallen by the wayside in favour of multimen clusters. Previously however we would have had so many great midcard stories that have culminated at Mania. Some longer term bloody feuds, and some that start late on. Often these short builds are perfect as it doesn't give WWE time to overthink them and ruin a good thing (looking at you, you convoluted ladies triple threat main event!). Styles and Orton absolutely nailed the simple build this week. A brief cameo at Fast Lane really put things in motion but it is their work on SmackDown that got them their spot. The most surprising thing about it is that it was all done on the mic, something that you wouldn't call either man's strong point. It's a simple story of travelled indy darling against WWE lifer but it was the conviction in the way Randy and AJ delivered their lines that made it. You believed every word they were saying. Something that certainly wasn't the case during Styles' long feud with Samoa Joe last year or pretty much any of Randy's work in the last half a decade. In fact if Randall is as motivated as he seemed on Tuesday, he may just have that another classic in the tank which seemed to be behind him. Fingers crossed.
4. Mustafa Ali (SmackDown Live)
The Lords of Pain-Mustafa Ali love affair continues as he nabs another top 5 spot on this list on his return to action and his first WWE title match. It really is a huge success story when you consider there has been no real precedent for a path out of 205 Live, a place where he didn't even snag the title. His work speaks for itself however and he clearly has fans in high places to be in such a prominent position so quickly. And he did not disappoint despite being given the unenviable place of replacing the read hot babyface Kofi. Ali did a fantastic job of winning the crowd back over and delivering a great match alongside Daniel Bryan and Kevin Owens. Mustafa will probably end up as a support act at Mania but it will cap of a fantastic year for the man. It will be very interesting to see what the next one brings for him.
3. Kofi Kingston (SmackDown Live)
The most interesting thing during my time away from WWE has been the snowballing of momentum for Kofi Kingston. It almost seemed to come out of nowhere following Mustafa Ali's concussion and has become a massive bright spot on a Road to WrestleMania where I was struggling to see anyone who would make a good challenger to Daniel Bryan. The fact that WWE have leaned into it 100% does actually make me think it could well have been by design all along. Let's face it, they aren't known for changing plans on a dime because of fan reaction in recent years, and certainly not in the short term. Either way, we have stumbled into a very interesting WWE title scene for Mania. There was a lot of initial negativity about the Fast Lane arc for Kingston but I loved it. The reaction before the WWE title match had it all. Sometimes it's all about the journey and Kofi is currently being given an extremely memorable one. Getting beat down in a handicap match wasn't enough for him to make this list though. Once again it was a SmackDown Live promo from a guy who isn't exactly famous for mic skills. Once again it was the pure authenticity that sold it for Kofi. He unleashed a decade of very believable frustration on Vince who also played his part to perfection. In a week where Batista and Triple H (two guys who have cut some excellent promos over the years) just ranted nonsensically at each other on Raw, the blue brand twice showed exactly how to build towards a Mania feud and Kingston continues to excel when finally getting his big chance.
2. Drew McIntyre (Raw)
Midcarder on Raw gets hot.
Seems he is about to blow up.
Gets cooled off.
Repeat.
This is what is known as Brock Lesnar syndrome. It's happened so many times over the last couple of years I've lost count. Drew has only been on Raw for what seems like a cup of tea and he is already on his second round. It was a great week for the Scotsman. Along with Corbin and Lashley, he more than held up his end of the Shield farewell at Fast Lane. It was the next night on Raw where he really got to flex his muscles however. His beatdown of the Roman Reigns was great and his match with Dean Ambrose even better. It was a brutal encounter and a TV match of the year contender in my eyes. It also could be the last time we see Dean Ambrose in a WWE ring. Now I wouldn't bet money on that but if it is that would be a huge kayfabe accomplishment on McIntyre's resume. So would a one-on-one WrestleMania bout with Roman Reigns. Following Triple H, The Undertaker and Brock Lesnar would be a big deal. That said, a lot will be down to how that match goes down. Personally I'd be strongly considering putting Drew over to be Seth's first challenger as Universal Champion. Unfortunately I doubt that is very likely.
1. The Shield (Raw)
One last hurrah for the Hounds of Justice? Time will tell. We all know you can't really read into WWE tag lines. Personally I hope this is one of those times. I love the Shield. I've loved them since their first appearance. I've loved the call backs to the group. I loved the last reunion. I loved this one. While they have encountered issues over the years, I love Dean, Seth and Roman individually as well. I don't know the reasons why Ambrose didn't want to sign a new contract. I don't know if Roman's return and the shift in booking will have any impact on his decision but I really hope he stays. It would be a big loss to the company. We saw what he can do as part of the Shield on Sunday night. That was no surprise. We've seen it time and time again and will continue to when all three men are employed by the company. On Monday we were reminded of how good he can be on his own. I've already gushed over the falls count anywhere match with McIntyre. It was right in his wheelhouse too and he is pretty unique in that style in the the company these days. His backstage promo with Triple H asking for the match was also a sign of what he brings to the table. But this top spot isn't for Dean alone. Roman played his part well after his first big match back. Seth had a highly entertaining match with Shelton Benjamin as he preps for Brock Lesnar. All in all it was a great advert as to why The Shield are the present and future of the WWE, and hopefully not just two thirds.
Major thanks to Mazza for filling in due to my lack of watching this week. Maybe we'll be able to collaborate again some day. As for Mania, the card is shaping up nicely but with only a few weeks until the big show, is your interest piqued yet? Mine still isn't but the silver lining is that I get to spend it in Leeds at a sports bar with a friend and maybe meet Maz for the first time with a pint as I cry at Angle retiring. Vitriol/praise/questions toward me are always welcome in the comments below, otherwise you can slabber at Maz with the following button.
You can also check out the latest episode of The Right Side of the Pond, where I also make my return to look at the Fast Lane fallout with Plan and Maverick.
Until next week, peace!