'Sup, Lords of Pain? It's Mazza here, back from my busy life to save you all from Randall. Well a little anyway. After Skitz had promised to help him out for a few weeks in a row and no-showed, I thought I better get back to lend him a hand. I even watched a little wrestling this week too in preparation. Not that it was a great week to come back for. But with the main roster misfiring, the network shows had a good chance to make a big impact. Let's see if they did.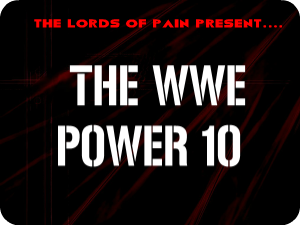 Week Ending 8th February 2018

10. J-E-DOUBLE F J-A-DOUBLE R-E-DOUBLE T (Raw)
Maz: I come back from hiatus, turn on Raw, see Roadie and Jarrett stinking up the place and Elias as a heel again already. That was bad enough. Now I see you've approved him for the list. What da DOUBLE-F?
Randy: Hey, this is MY list so I do as I please. As for my choice, there were two guys that wrestled on RAW this week, one was 50 and the other 51. Despite being the older of the two, Jarrett showed he hasn't lost a step whereas Kurt Angle (one of my all time favourites) could barely make one step. That and I wanted to shaft Mustafa Ali from the list to piss off 'Plan.
9. Walter (NXT UK)
Maz: My hiatus is still extending to NXT UK right now. All I know about this dude is that he spells his name in all caps so he must be angry. I am assuming he is angry because someone has squished his head in an anvil. What is up with it???
Randy: I've known of the Ring General for a while and caught a few videos here and there (check this clip out of him annihilating Zack Sabre Jr https://www.facebook.com/ASAWofficial/videos/walter-chops-the-life-out-of-zack-sabre-jr/832309460301825/) and it seems he's well known for having brutal chops. He can be an agile bastard and has an aura about him that I can't explain but it makes me want to see more of him and against Pete Dunne that they teased back at Blackpool.
8. Daniel Bryan (SmackDown Live)
Randy: I thought Bryan had a quiet week but the columnists have voted so I'll try stretch this out. He had a fun outing against Jeff Hardy in the main event, with a little bit of shit talking beforehand but…..yeah, I'm drawing a blank on this rare occasion of a so so week for The Planet's Champion. You got anything Maz?
Maz: Since the heel turn Bryan has been the MVP of this list. It was definitely a down week for PETA's favourite son but with a quiet week across the board he still managed to sneak in. Seeing I've missed a lot of weeks of the P10 however, I will take this opportunity to rave about how fantastic he has been of late. The most universally popular act probably since the Attitude Era gets cleared from a career ending injury and totally sticks a heel turn within months. It is quite remarkable. We thought that we had been robbed of a world title run of face Bryan at his peak and now we are getting a heel world title run 5 years later. If he can maintain this level for a couple of years he may have a genuine claim to be the GOAT.
7. Jordan Devlin (NXT UK)
Randy: I was struggling to figure out why the lad from down South was on this as he only had a promo on NXT UK this week, but then I realised he had a good showing from the World's Collide tournament so I assume that factors into a few voting for him. I'm still pleasantly surprised he's showing his cocky twat tendencies as I didn't think he had it in him for being a Balor clone but he continues to prove me wrong every time he's on screen. He'll be in Belfast for a local show soon and I hope to get up to see him (as well as a few others) live, although he'll probably be a smiling clown for the home crowds smh….
Maz: I've actually missed a lot of Devlin. I've yet to really buy into him being his own man although I don't doubt it as he is getting a lot of good reviews. I was in tears at the songs being thrown his way in the first Blackpool tourney. I hope those are still going on.
6. Ben Stiller (Dodgeball)
Maz: Seriously? Why did I come back to this column. I mean what the hell was going on in Full Sail this week. Your best mate Everton fan was dressed up like a blue Where's Wally (Waldo to you Yanks) but wasn't the strangest thing on the show. You want to try and sum up this Bugenhagen dude who is already getting cult love from this panel?
Randy: Just send me the names of whoever voted for this fucking moron so I can send a turd in the mail to them. I read a report saying he had a "No Way Jose" making performance that the FS crowd loved. So basically they overrated his embarrassing schtick so that he'll be called up to waste precious minutes on air. Fuck that. I've wasted enough time typing about him. Also, fuck that Everton fan. He needs to go away from Full Sail forever.
5. Samoa Joe (SmackDown Live)
Randy: We really should stop putting Bray Wyatt….sorry, Joe, on here and I should stop getting my hopes up about him every time he is booked to be a badass on TV because he fails when the chips are down in big matches. I love the dude but he needs to rack up a few good wins that mean something because I'm going to stop caring about him fast if he continues like this (hi Bray).
Maz: I certainly see where you are coming from here. I think the difference is Joe has that ability to bounce back. However that won't last forever. The mystique will wear off sooner or later. I think they have to strike while the iron is hot. If he gets a big title win under his belt he could live off that for quite a while and run a Big Show/Kane role for a few years where he can shake stuff off and come back numerous times looking like a threat. It would certainly be better than following the buzzards.
4. Matt Riddle (NXT)
Maz: I really really shouldn't like Matt Riddle. Everything about him SHOULD annoy me. But he has won me over almost immediately. His theme is like a remix of the GTA San Andreas theme tune which is an automatic win. Maz confession time. I also went through a phase of rocking a friendship on my ankle. I still wear flip flops as much as possible too. In fact yesterday I wore them to go into Morrisons twice and a Tesco Express. Although I was also wearing socks which probably destroys the ironic coolness. In another era I may have been a bro. But I think the most important thing about Riddle is he is a lot of fun to watch in the ring. His NXT outing against Drew Gulak this week was proof of that once again.
Randy: I echo Maz' comments, although my confession is that I've tried his flip flops off trick and I sucked…. I tolerated Riddle when he debuted because he was unique and his theme is catchy. Then he had that cracking (hi Skitz) match against a favourite of mine in 205 Live (RIP Taped). He showed his chops against a similar wrestler (the Ohno matches didn't tickle my fancy) and I now look forward to them squaring off in a longer match down the line.
3. Velveteen Dream (NXT)
Randy: HIT IT! Every once and awhile, a homegrown talent springs from the pack and becomes a star. We've seen it with Goldberg back in WCW, John Cena in WWE and AJ Styles in TNA. What's so special about Dream is that he was a failed Tough Enough competitor and the fact that he has a gimmick down to a T at the age of 23 is just ridiculous. He was the star of Halftime Heat, which is amazing considering who else was in the ring teaming with or against him. The sky is the limit for Dream but I will continue to be selfish and hope he stays in NXT because fuck the main roster.
Maz: Yeah, I didn't watch Half-Time Heat, so I will have to take your word for it. I did enjoy his promo work on NXT however. I look forward to seeing him and Johnny Champion tear it up soon. Also, how long before Gargano and Morrison have a Johnny clash and it ends up in court?
2. Becky Lynch (SmackDown Live)
Maz: Unsurprisingly there was a lot of controversy surrounding the direction of The Man's road to WrestleMania this week. Whenever Steph and Hunter place themselves into a hot feud, suspicions of the IWC are never far behind. While I certainly am wary of where it goes, I do like the idea of Becky having another obstacle. Two months is a long time in this day and age for WWE to build to big match and quite frankly, I'd rather Lynch and Rousey be kept apart a bit more. Hell, I'd take Shane, Vince and Linda all having their say too if means Charlotte doesn't get added. That is still my biggest wish for it all.
Randy: I watched the two Lynch segments live this week due to being off work (curse you, food poisoning) and I regretted it (along with checking the whole shows out). This isn't what I want to see. Steph and Trips are making it out that Becky won't heal up in time for a match within the next week or so when it isn't until TWO MONTHS time. As for The Man, she's being pig headed for not going to a doctor to get herself cleared. Why would you screw yourself over with the biggest match of your career, just to save face while "injured"? Not off to a good start on the Road to Mania but there's 2 months left to get it back on track.
1. Drew Gulak (NXT?)
Randy: Gulak is my favourite guy from the 205 Live part of town. I'm a sucker for technical/submission wrestlers that historically don't have good mic skills (Angle withstanding) but Drew bucks that trend. His campaign on 205 was entertaining but when that didn't work out, he went back to what he does best, out wrestling and submitting people. Unfortunately it didn't get him the Cruiserweight Title but he has moved on to greener (yellow…er?) pastures in NXT. After dispatching of "he who shall no be named" and making a point to complain about it, he proceeded to bring out the best match in Riddle's NXT career to date. If Gulak stays on NXT to be used more, I'm all for it. He has done all he can on 205.
Maz: Gulak has been one of WWE's most consistent performers over the last couple of years. He emerged showing a level of personality few realised he had in the aftermath of the Enzo-205 Live fiasco and hasn't looked back. He has a great blend of in ring skills and character work and quite frankly, if he is moving to NXT he can consider himself unfortunate not to have been given a main roster shot. If he keeps having weeks like this one however, it won't be too far away.
So there we have it. Mazza is back (for a week at least) and we have a NXT dominated list. Will the main roster clap back next week with the go home shows for Elimination Chamber. I would certainly hope so but Mania season TV can really be hit and miss. As for this week, if you have any comments on this week's list, you can hit us up in the comments below or on Twitter.
You can also check out the latest episode of The Right Side of the Pond, where Plan and Maverick look at the In Your House format and how WWE could use it to help with today's product.
Until next week, peace!