'Sup, Lords of Pain? Takeover and the Royal Rumble are almost upon us but Mazza has only JUST seen NXT UK Blackpool. Until he gets up to speed, I'll continue to steer the ship so enough faffing about, it's time for……….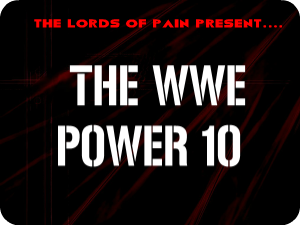 Week Ending 25th January 2019

10. European Union (NXT)
I'm a fan of Fabian Aichner and his partnership with Marcel Barthel wasn't something I was interested in, selfish as I was. Then I saw them in action and boy, they're my kinda tag team. Their match with Oney Lorcan and Danny Burch was quick but eventful and ended with the Axis Powers losing but I expect to see more of them here and on NXT UK and I look forward to it. They'll be a welcome addition on the assumption the roster will be raided post Wrestlemania.
9. Travis Banks (NXT UK) and 8. Jordan Devlin (NXT UK)
These lads have been at each other for a bit now and it seemed the score was going to be settled this week. Devlin plays the cocky bastard well and Banks done a good job with the underdog role. Surprised at the no contest finish but it continues the feud nicely and sets up a gimmick match down the line to finish it off.
7. Sasha Banks (RAW)
Sasha seems to be tapping into what I liked about her in NXT, "The Boss". The babyface stuff on RAW has been terrible and I've zoned out when she (and/or Bayley) is on screen but the short buildup has been interesting because she's spouting out subtle hatred for Rousey in the lead up to their match. I can't see her winning the title but don't count a full heel turn on the Road to Wrestlemania.
6. The NEW Daniel Bryan (Smackdown Live)
You know someone is a heel when PETA is championing them on Twitter for "fighting the good fight". PETA aren't heels? Oh, well they're annoying as shit. Thankfully Bryan isn't, because he's right in what he says but we hate that he's right and refuse to accept it so boo him out of the building. He had the last laugh against Styles during the confrontation and I think it's safe to say he'll be retaining this weekend. Where will he go from there? No idea, but I look forward to seeing what he does.
5. Drew McIntyre (RAW)
The Scotsman may have lost on RAW but he looked strong in defeat and still remains in the race to win the Rumble on Sunday. With the status of John Cena up in the air due to "injury", it could derail the feud they could've had to Wrestlemania. I think it's a ruse, as Cena will appear when Drew is in control and eliminate him. Drew will return in a rage and eliminate Cena, setting them up fo the match. Simple stuff really.
4. Seth Rollins (Raw)
The (other) Man picked up a huge win heading into the Rumble over Drew Mac in a hard fought match. Rollins has to be the odds on favourite to win this weekend and it makes sense considering all he has gone through (check the various columns by 'Plan/Sir Sam and Maverick for why they think he should win). I can see another ironman effort by him and they could use that during the buildup for Lesnar should he choose him (he will) to put over how resilient he is.
3. Hideo Itami (205 Live)
Itami has been a bust since joining the WWE, with injuries and bad luck costing him at every corner. The move to 205 has been a blessing though because he looks to be thriving in the environment and has acquired a mouthpiece in Davari to cover up his lack of English. He came out on top of the triple threat this week to send a message to Buddy Murphy but I can't see him winning the title on Sunday.
2. Finn Balor (RAW)
The Irishman had a tall task ahead of him this week (pun intended) when he confronted Mr McMahon, Brock Lesnar AND Braun Strowman while they talked shit to each other. This led to a match against Braun in the vein of "David vs Goliath" but Balor decided to take it to the Beast lurking at ringside too which ultimately cost him an F5. He might be believing too much into the fairytale that he can beat Lesnar at the Rumble but he showed that he can hang with the larger guys (pause) and won't go down so easily (double pause).
1. Samoa Joe (Smackdown Live)
Joe's presence was felt on Smackdown this week by soundly defeating Mustafa Ali and threatening the rest of the Rumble participants with a backstage promo. He wasn't finished there though, as he interrupted the ⅔ falls match between Mysterio and Andrade to assert his dominance and send a message, even if it ended with an RKO from the returning Randy Orton.
Well that does it for this week. Since not many votes were cast, I just went along with who I thought was worthy of the list. As for Takeover and Rumble predictions….
Ciampa to retain
Gargon to win the NA Title
Baszler to retain
War Raiders to win the Tag Titles
Ohno over Riddle
Lynch AND Flair to win Rumble
Rollins to win Rumble
Lesnar to retain
Bryan to retain
The Bar to retain
Asuka to retain
Rousey to retain
Rusev to retain
Murphy to retain
If you fancy giving Maz some grief, do so at the following link.
You can also check out the latest episode of The Right Side of the Pond, where Plan and Maverick look ahead to the rumble.
Until next week, peace!