'Sup, Lords of Pain? Apologies for the shoddy post last week. It was a rough weekend and my heart wasn't into it, so I wasn't surprised when I got called out by a Disqus comment (I raise my glass to you, unlike the other moron). Warms my cold heart that some folks enjoy my typing though haha (suck it, Maz). This week, I've finally dug up Skitz from whatever self made hole he has been in the last month. He's been dying to get onto this shindig since it began so…..oh wait, he disappeared again. Oh well, guess I'll do this solo again……………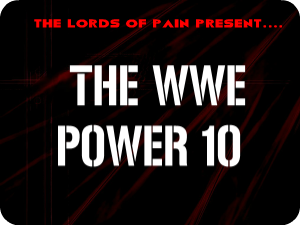 Week Ending 22nd February 2019

10. The Tag Team Formerly Known As DIY (NXT)
These guys weren't actually voted by anyone on the committee (sorry guys) but I thought I'd add them here since they were heavily featured on RAW, Smackdown and NXT this week. That and a lot of folks received single votes and I couldn't choose between them. What stood out to me though was the fact that Ciampa and Gargano were dwarfed by The Bar on Smackdown and I don't consider Sheamus to be a big lad (must be because I'm 6ft 2 myself and north of his hometown). I do however want to see Cesaro vs Gargano in the near future because who wouldn't want to see Johnny being tossed about like a ragdoll all over the place? *edit: they now have a match on Smackdown next week. Thanks for creeping my doc before even posting it, WWE*
9. The Usos (Smackdown Live)
These guys get the 9th spot soley for a vote from Imp (hey dude) and they took the titles from a worthless team like McMiz *shudders* The downside is, they have a rematch with this terrible makeshift team and as much as The Usos are a great team, they can't get a good match out of Shane. His ship sailed back at Wrestlemania XV when he was carried to a good match by X-Pac (underrated career, ask Maverick) but I digress. This is about The Usos. They deserve a chance to shine in a proper tag match at Wrestlemania. Once they deal with this shit thrown at them, I would like to see them against fresh but worthy opponents. Who that may be I can't say, because there isn't anyone that hasn't been done on Smackdown already. Would love a cross brand non title match against The Revival though. A man can dream………
8. Finn Balor (RAW)
As much as it was great seeing the Southern lad winning a title, I feel like it was a cop out considering he beat Lio Rush for the title and not Lashley. You can't tell a David vs Goliath battle when Goliath has a David by his side that will cost him the battle. He did gain an ally in Ricochet to battle the two on RAW and it was fun to see them both fly about the ring. Having the IC Title puts him in a prominent spot for Wrestlemania and it'll be interesting to see who challenges him for the title, provided he still has it then.
7. Aleister Black (NXT)
Another "call-up" makes the list for his solo performances on RAW and Smackdown and it's one that I expect to be permanent come post Wrestlemania. Black has done all he can on the yellow brand and with Bray Wyatt still out (and worthless anyway), there's a spot to be filled for a dark, mysterious wrestler. His match with Andrade on SD was a reminder that they headlined Takeover Brooklyn last year for the NXT Title and that he's a solid hand in the ring but with main roster call ups, you can never be too sure on how they'll be treated…..
6. Ricochet (NXT)
Ricochet came across as the bigger star out of all the NXT appearances this week, so that's gotta be a good sign for his future. His repertoire is eye catching and the younger side of audiences will love the "superhero" vibe he gives off. He has only been on the NXT roster for nearly a year but I wouldn't be surprised to see him permanently on the main roster after Mania. He'd be a solid addition to Smackdown and could be a featured main eventer within another year if they use him correctly but I won't get ahead of myself just yet. Keep your eye out on this one.
5. Rhea Ripley (NXT UK)
Storm defended her Women's Title against former champion Ripley in a barnstormer of a match that you should really check out. Rhea is an imposing woman and the turn around from her first Mae Young Classic appearance was greatly needed. I feel like she should've kept the belt longer though because the UK scene is fairly limited at the moment and a strong heel champion being chipped away at is more entertaining than the usual "fighting champion" schtick that face wrestlers always seem to have. She's only 23 though, so there's plenty of time for another run down the line and more great matches.
4. Boss N' Hug Connection (RAW)
Congratulations are in order for the "first ever" Women's Tag Team Champions. I like the possibility of them going to NXT to fight teams there as that's where they grew up but personally, I could care less about the team. Boss Bitch Banks is money but main roster Banks is trash while Bayley has always been overrated for me (not as much as Charlotte though). The titles were put on them solely for the reason to finally (hopefully?) turn Sasha on Bayley so we can get that nostalgic feud from NXT. Other than that, their main event runs have been busts.
3. Velveteen Dream (NXT)
D-R-E-A-M! I'm such a sucker for this dude and there isn't I can type that hasn't been said already. Nice to see him get the North American Title from Gargano even if I wished it was on a bigger stage, but this result literally gives him the chance to DEFEND on a bigger stage, namely Takeover: New York. The sky's the limit for this dude and his refreshing gimmick in a land of the same old is a welcoming sight for sore eyes. Long may it continue!
2. Daniel Bryan (Smackdown Live)
The Planet's Champion replicated his 2012 Chamber put over of an underdog challenger, with Kofi replacing the laughable Santino Marella this time round. It's amazing how a beloved guy like Bryan has gotten people to turn against him with this Straight Veg Society stuff and get Kofi more over than he was since his feud with Randy Orton years ago. I just hope they keep him champion and put him in a prominent position for Wrestlemania against a worthy opponent (see below for more).
1. Kofi Kingston (Smackdown Live)
I'm still bitter Big E didn't get this chance. Fellow main pager/Ponder 'Plan summed up my thoughts on Kofi and his push perfectly in a column last week (check it out https://lordsofpain.net/just-business-the-sunday-column-on-the-riott-squad-kingston-and-dar-vs-nese/) and I still stand by it. Even if the push had've went to Mustafa Ali like (I assume) it was meant to, I'd still be against it. His performances have been great and he's a talented chap but I want someone more deserving of a shot, like Randy Orton. Just kidding. SHEAMUS OR I RIOT. Jokes….?
Solo again. Mazza might as well give me posting rights so I can put my own spin on this but then again, who would censor me? As for the wrestling world, another week closer to Wrestlemania. I don't feel too excited at the moment and I'm heading to Leeds to watch with a friend that weekend. How about the rest of you guys? Are you ready for Mania or are you as meh to it as me?
Maz plug is here. Why I do not know. Just kidding.
You can also check out the latest episode of The Right Side of the Pond, where Plan and Maverick look at the Elimination Chamber fallout.
Until next week, peace!