'Sup, Lords of Pain? The weekend is upon once again which means only one thing – time for this week's edition of the WWE LOP P10. We have a brand new show in contention this week too. With the debut of NXT UK on the network, I may be throwing a touch of home field bias into these lists over the next few weeks. Of course we have our usual shows in contention too with a whole host of guests appearing on SmackDown 1000. So the question is will we see Vicki Guerrero, Teddy Long or Johnny Ace? Let's find out in the latest edition of…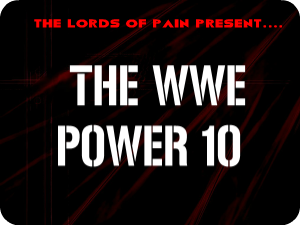 Week Ending 19th October 2018

10. Rey Mysterio (SmackDown Live)
Look who's back and straight into the P10. Rey looked done during his last run with the WWE. His knees seemed shot and he had put on a bit of weight. That's not a good combination for a guy who was dependent on his speed and high flying. He deserves a lot of credit for lengthening his very successful career outside of the WWE and he looked great during his cameo in the Royal Rumble at the start of the years His full time return to the company has coincided with SmackDown 1000 and he kicked things off with a bit of a dream match against Shinsuke Nakamura. While nothing groundbreaking, it was a great way to end a very fun episode. Rey's victory sees him qualify for the "world cup" at Crown Jewel which is looking more like it should be King of the Ring 2004 or something. Still I am looking forward to seeing what Rey can offer in 2018 and we certainly have a few fun first time matches to look forward to.
9. Nikki Cross (NXT)
This week's Scottish takeover starts with Nikki Cross. By the end of the night, she was no longer the only one to know her secret. I have to admit, I've thoroughly enjoyed seeing her running around NXT telling everyone she knows what happened to Aleister Black. I do love a bit of crazy on my wrestling show. Anyway, with William Regal determined to finally get to the bottom of what she actually knew, Nikki went out to have her rematch with Bianca Belair. It was another very strong bout between the two ladies who have developed some excellent chemistry. However, like the match a few weeks back, we would have an inconclusive finish as Black made his return to confront Cross. She maybe crazy, but not crazy enough to continue to the charade as she would reveal to the former NXT champion (but not us) who attacked him. While that is bound to take up a big part of the NXT landscape for the end of the year, I find myself looking forward to Nikki and Bianca playing one more time.
8. Batista (Getting Blackballed in Hollywood)
The outspoken Batista was back as part of the Evolution reunion for the 1000th episode of SmackDown Live. While Big Dave is undoubtedly a huge part of the history of the blue brand, I did find it an odd fit when the group are very much a Raw faction. The reunion was certainly strange. We had psycho Orton dressing up like it was 2003 yet clearly showing no love to the group. We had Evolution Hunter being a total different character from DX Hunter, just ignoring the fact that The Undertaker was in attendance. Ric was obviously just there for the booze. Then we have Dave, who took charge of the segment and did most of the talking. He bigged up the group and the members before throwing a bit of shade at Triple H. So all was revealed and it looks like we are heading down the path of a WrestleMania 21 rematch. Hands up if you are excited!!! I have a lot of goodwill for Batista. He did a fantastic job in 2014, putting over 4 of the current crop of stars before heading back to Hollywood. As such, I would be more tolerant of him having another run than I would a lot of part timers. However, I've got no interest in seeing him against The Game. I'd be a lot happier with part timers should there be less of them and they spent more time getting this generation over. Having them bicker amongst themselves in the main events while the top contemporary talent is marginalised just blows my mind. So please WWE, if we are going to follow up on a strong promo and try and get that Hollywood rub, let's do it for the benefit of one of the young guns (and not Roman again).
7. Tony Nese (205 Live)
When I discussed the Premier Athlete's fun midcard encounter with Johnny Wrestling a couple of weeks back, I wasn't expecting it to go anywhere very quickly. He followed that loss up however with consecutive pin falls over a guy who had spent the year undefeated until a couple of weeks ago. Nese was certainly in contention for a place last week after defeating Cedric Alexander in one-on-one action. He makes it this week for picking up a win again in a very exciting fatal five way on the main event of 205 Live. The fact is, any one of the guys in that match could have made the list, so honourable mentions to Metalik, TJP, Alexander and particularly Lio Rush, who is certainly growing on my as an athletic irritant. It was this week's popcorn match full of fast paced action and exciting spots. It was Nese who was the anchor though and who took home the victory. He finds himself in a position that is generally reserved for the next challenger to the title. With his workout buddy (puns always intended) holding that strap however, it appears we are watching something a little out of the norm. I am all for it and if his form continues, a title match with Buddy Murphy is inevitable.
6. Ronda Rousey (Raw)
"The only door you ever knocked down was the door to John Cena's bedroom. And he eventually threw you out of that exact same door."
It is this devastating burn that gives the Raw women's champ her first appearance on this list. Her missing out is not particularly representative of the quality of the start of her WWE career. She has taken to the ring work like a duck to water. Make no mistake about it, Rousey is a star. When not wrestling, she's not been quite so consistent. She goes from all smiles to sourpuss without much in between. The strength of her performance this week was the level of believability in her delivery. It wasn't just that epic zing either, her whole promo was full of what felt like legitimate vitriol. Was it? I don't know. The change in delivery was huge but that doesn't automatically mean there is real heat there. There are rumours circulating that Ronda wrote the entire promo herself. I have no doubt whatsoever that scripted promos play a huge role in lacklustre delivery so maybe it's just a case of her having a bigger hand in the creative of it all. If it is, then it has to be considered a huge success and something WWE really need to be moving back towards.
5. Becky Lynch (SmackDown Live)
Becky time. This week Ms Lynch got a talking segment on SmackDown 1000 with an appearance on the Cutting Edge. The Rated R Superstar was in contention for a spot this week himself, with a strong performance saying he understood Becky's actions but gave her warnings of the consequences. The Lass Kicker, who would start things out by calling Edge a huge influence on her career, was quick to change her tune, saying she loved who she has become. Let's be honest now, don't we all. She threw some grade A shade at a Hall of Famer and didn't seem too far off physically removing him from her ring before Charlotte hit the scene. I've said it before, and I will say it again. This is the best thing going in the company right now, and I look forward to next part of the story.
4. Dean Ambrose (Raw)
The Lunatic Fringe's hormonal imbalance was the big shadow over the Raw main event scene as Ambrose flies the flag for the Shield once again. It was more of the same as Dean followed up his solo exit of last week by assisting Seth Rollins in his victory over Drew McIntyre. A throwaway "lunatic" comment from the Architect had him annoyed once more and when Seth tried to return the favour during Ambrose's match with Dolph Ziggler, Dean took exception and it cost him the victory. With brothers almost coming to blows, Corbin put them in a six man main event against the Dogs of War and while it almost fell apart again, Ambrose would finish the night, as he did in Australia, picking up the win for the Shield. So all is okay with the world again. For the moment anyway. While it has been fantastically executed, I do think it is going a little overboard. Pull the trigger or keep the teases a tad more subtle. There could be some very good TV in hashing out the issues but let's not just do the same thing week in, week out.
3. Pete Dunne & 2. Noam Dar (NXT UK)
Where my UK crew at? We've finally got it guys!! WWE UK kicked off this week and I thought it was a very solid episode. The company continues to stack the network with alternatives to the main roster shows and while this one will be aimed at us Brits, there will plenty of entertainment for viewers across the globe. The main event of the first episode saw 205 Live's Noam Dar get his title shot at brand leader Pete Dunne. The Bruiserweight is the perfect choice to be the star of the new show. He showed it in this match with a typically exciting and hard-hitting display. At this point however it is to be expected from Dunne. In fact, when I know he has a match coming up, he is already pencilled in on the list. The Scottish Supanova however really stepped up to the plate this week. Dar has become one of my favourite follows on Twitter and this week he brought that quality with him to the ring too. It's the second time in three weeks that a purpleweight has made this list based off an appearance on a different show, which is testament to the quality in that division right now. Dar showed his range in this one, going toe-to-toe with the Bruiserweight at his own game as well as throwing him some fast paced, high flying action. As we've seen with Tony Nese, a strong effort in defeat elsewhere can be a catalyst for a mini-push on 205 Live. Let's see if the Scottish Supanova can follow suit.
1. Drew McIntyre (Raw)
Drew came into the WWE almost a decade ago now as the Chosen One. A fall from grace in the company and a rebranding on the indies has seen him return with rumours circulating once more that management is very high on him. On a week like this it is easy to see why. The Dogs of War were always likely to be a temporary alliance however I kind of assumed it would end with the Monster Amongst Men laying waste to the tag team champions. It was McIntyre who left the split as the alpha of the trio however, laying Strowman out with one accidental and one very very intentional and Claymore. The sweetness of that second kick to Braun's face alone may have seen him make the list this week however, when you factor in a really good TV match with Seth Rollins and a part 3 of The Shield vs The Dogs, it amounts to number one spot for one half of the tag champs. With the alliance with Strowman apparently dead, what is next for McIntyre? He had been critical of his own partner during the Shield feud so it will be interesting to see if Dolph is still in the good books. I hope so, because as I have said previously, I think the payoff for the split would make a great addition to the Mania midcard. In the meantime, keeping some shine on the tag belts would go a long way to making Raw a very well rounded show.
Did you know that the national animal of Scotland is the unicorn? Didn't work out too well for the New Day on Scottish week of the Power 10. They lost their titles while Dar and McIntyre make it a 1-2 at the top of the list with Nikki Cross also registering. The Mae Young Classic missed out on representation despite a strong batch of quarter finals this week. The ladies will get a final chance to make it at Evolution however. The one to look out for next week is definitely Hideo Itami vs Mustafa Ali once again. Ali's promo to hype the falls count anywhere match was fantastic so I have big expectations there. Should you have any comments on this week's list, feel free to hit me up below or on Twitter.
You can also check out the latest episode of The Right Side of the Pond, where Plan and Maverick take a closer look at episode one of NXT UK.
Until next week, peace!