'Sup, Lords of Pain? Flying solo once again this week, even though Mazza might as well have been non existent last week with his lack of knowledge (love you really). Only doing 8 this week because fuck you, it's my list and I'm tired. With Elimination Chamber this weekend and a lackluster showing last week, will the main roster bounce back or will the Network shows continue to shine? Find out in………….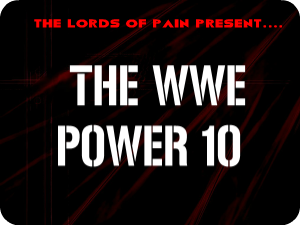 Week Ending 15th February 2019

8. Chad Gable (RAW)
Kurt Angl……..Chad Gable put on an absolute clinic during the RAW Tag Team Title Match and his chemistry with The Revival reminded me of happier times with American Alpha tearing down the house with the Top Guys. Gable has been saddled with a face Roode and it has been atrocious (heel Bobby for the win) so hopefully he will break free from the monotony and finally shine on his own now because let's face it, he's underutilised. Just get the man a mouthpiece and we're set.
7. Jordan Devlin (NXT UK)
205 Clive (main page results poster for….the hint is in the name) has been voting for this chap constantly and it makes me wonder if this is a Devlin burner account. It would be something the Irishman would do to get himself out there because he's brash, cocky AND can back it up. He seems to be on the short end of the stick in this feud with Travis Banks because the Kiwi cost him a match with Noam Dar but I can see him decisively winning the feud and going on to face Pete Dunne for the title soon.
6. Noam Dar (205 Live)
Speaking of Dar, the man was on two shows this week with a brutal No DQ match on 205 and a match against the aforementioned Devlin on NXT UK. Personally I hate Scottish people and I can't buy the lad as a face, yet people seem to dig him so I digress. He put in work with both matches, coming up short in 205 but winning at NXT UK, so I can't fault him for not slacking and making the most of the opportunities given to him. With the Nese feud done, does he go to UK permanently or does he filter in and out when needed?
5. The Revival (RAW)
As much as I love the "Top Guys" winning the titles, their victory feels hollow. With rumours that they wanted to leave due to the state of the tag team division and lack of push, the titles are like giving candy to a baby to keep it happy. Eventually, that happiness will run and the cycle will repeat. Revival haven't been used right since being "promoted" to the main roster (usual NXT curse then) and I can't see it getting any better now that they have the titles. I will enjoy it while it lasts though and as much as I don't enjoy Gable teaming with Roode, I'd like to see another cracking match between the two teams one last time.
4. Tony Nese (205 Live)
Buff Bagwell has changed considerably since the last time I saw him….
The Premier Athlete shockingly won the feud with Dar in the aforementioned no DQ Match with Dar on 205 Live and you should check it out if you haven't seen it already. I say shockingly because usually the faces win if it's nothing to do with the title (see Ali/Gulak, etc) so could we see Nese go for the title next against his Buddy Murphy? One to keep the eye on.
3. Ricochet (NXT)
The man continues to shine in NXT and I will not be surprised if he makes an appearance in the Andre The Giant Battle Royal at Wrestlemania (if it's happening) or is a call up the next nights on RAW or Smackdown. He and Adam Cole are perfect for each other and have produced great matches any time they have fought. Ricochet has Cole's number each time though but the numbers game always ends up beating him down before, during or after. Where does he fit in heading towards Takeover: Brooklyn in 2 months? Who knows, but you can guarantee he'll be the star attraction.
2. Charlotte (Smackdown?)
In my personal life I work nights (midnight to 8am), so when there's a show on from 1am to 4am UK time I usually check the live results when on a break. The ending of RAW had me in stitches with the amount of people losing their shit over Becky being "suspended" and The Queen being injected into the match instead. These people were thinking it was legit and it was hilarious to read. The downside to that though is that I don't want to see Charlotte anywhere near a title match, no less an anticipated one from Survivor Series that never didn't happen. For now, she gets second place for playing it off well and being the entitled bitch we all know she is thanks to daddy's surname. Christ, now I sound like those commenters……..
1. Kofi Kingston (Smackdown Live)
As if being disappointed that New Day went with Kofi as it is, now he gets top billing thanks to the votes? Wait…….shit, I voted for him too. There's no denying that Kofi deserves it after the iron man showing this week but he was only chosen because he can (nearly) do the things that Ali can and is a proven commodity in that type of environment. Yes, that was said with bias because I still want my Big E push but it's my list and I can say what I like within reason, dammit! (hi Maz)
Well that will do it for another week. With Elimination an inconvenience this weekend, I'll be skipping it and maybe watching highlights when home. Predictions are as follows
Bryan to retain
Rousey to retain
Lashley to retain
Murphy to retain
McMiz to retain (nice one Jimmy)
Strowman over Corbin
Don't care about the Women's Tag Titles. Sorry.
Usual harassment towards Maz is at the following.
You can also check out the latest episode of The Right Side of the Pond, where Plan and Maverick look ahead to Elimination Chamber.
Until next week, peace!